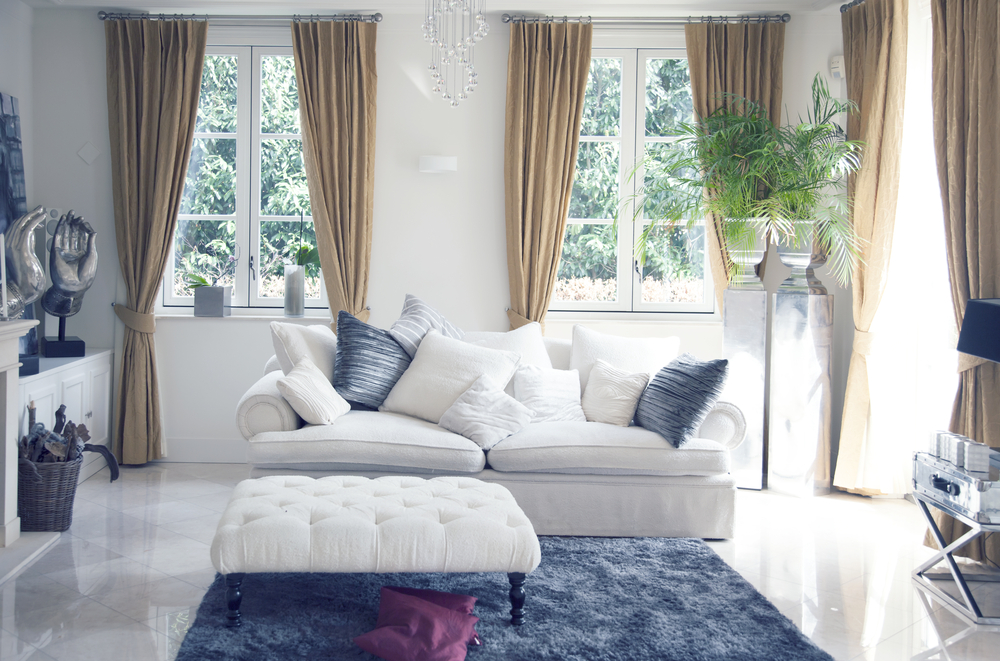 4 Design Tips for Creating Luxury in a Small NYC Living Room
NYC is known for its small apartments and its residents' creative uses of those tiny spaces. In a way, New York headed the tiny house trend that has obsessed home buyers and renters all across the nation, even in states with plenty of wide open spaces. The idea of doing more with less is appealing to many individuals, including those who feel overwhelmed with the sheer number of possessions and gadgets that start to fill up a living space. Whether your interior design clients choose to live small, or they are simply making the best of their tiny apartment, living small does not mean living without chic design. Try out these four design tips for creating luxury in a small NYC living room.
Enhance light
You have many decorating options for enhancing the light in a room. And small spaces need good lighting even more than their larger counterparts. In fact, getting enough light into the space can be one of the most important aspects of small room design. If your small space also has few windows or small windows, adding mirrors is a great way to give the appearance of more light and openness in the room.
You have a couple of options for doing this. A single large mirror is usually the best option for a small living room. You can place the mirror behind candles or a lamp so that it reflects that light back into the room. Or you can place the mirror across from a window to reflect the natural light, as well as the view. This has the effect of making the room appear to have two windows, which really makes the space feel less closed in and cramped.
Pay attention to colour
The best colour solution for a small living room? A neutral palette with one boldly colourful focus piece. Neutrals come in a surprisingly wide range of colours, so you can find a neutral palette that suits nearly any client, including grey, white, beige, ivory, taupe, and even black. Admittedly, black should be used sparingly in a smaller space, but it can definitely add a luxurious appeal as an accent colour.
But going all neutral can look aseptic and boring. That's where your focal piece comes in. Not only does a splash of colour liven up the feel of the room, it also breaks up the monotony of the neutral palette, making the space around the bright colour look even more open. Louis Interiors can help with both aspects of your small living room design. Our luxury furniture can be upholstered in any fabric you like, including pieces for your neutral layout, as well as bright, fade-resistant fabric for the focal piece.
Take a look at scale
When choosing furniture for a small living room, you want to consider the actual size of the pieces, as well as their visual weight. This is where custom made furniture comes in. A few inches in dimension can really make a difference when you want to fit sufficient furniture into a room without making it look cramped. A loveseat and several arm chairs nestled together facing each other is cozy. But if the chair arms are touching and nobody has leg room, that's no good. Let your clients know that Louis Interiors custom furniture for New York can scale their pieces to any size.
Think about unconventional solutions
Maybe the space doesn't have a lot of horizontal area, but if the ceilings are high, you can take advantage of that space aesthetically. Try drawing the eye upward with floor to ceiling drapes. Fabric made from a wispy material will pull the gaze to the open vertical space without weighing down the room.
Placing artwork on the walls can also help to lift the gaze of the observer away from a small floor space. This can make the room feel larger and less confined. You may think that bare walls would make the space feel more open, but it can have the opposite effect if people avoid looking at the walls because everything interesting is placed low.
Louis Interiors has been working with interior designers for decades to get their client projects just right. Talk to a member of our team today to find out more about the best luxury furniture for NYC apartments.