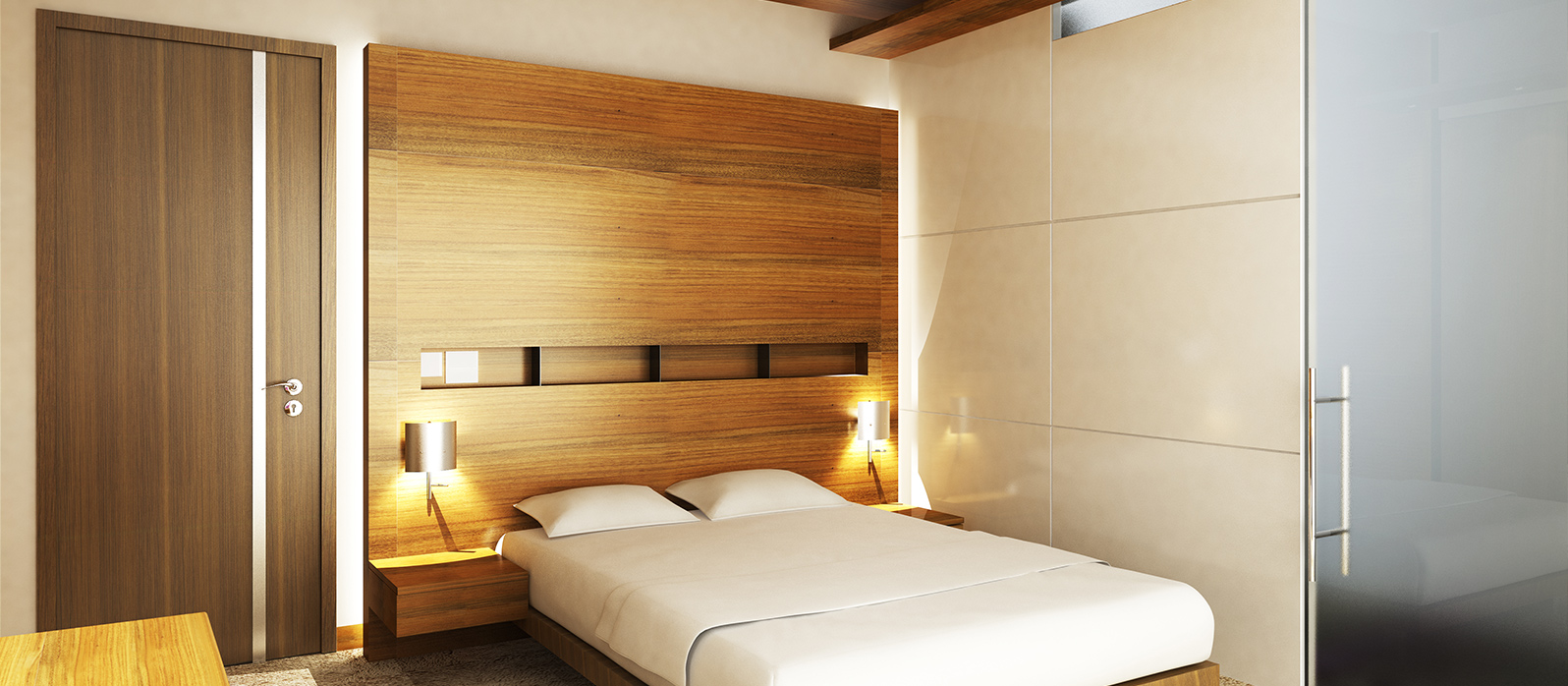 5 Reasons Oversized Headboards Are a Design Necessity for Small Spaces
Often there's a tendency to try to keep things small in small spaces. After all, with less room to fill, you don't want huge items taking up all the space. But sometimes, an oversized focal point is just what the space calls for. Rather than making a bedroom look smaller, oversized headboards create a multifunctional area and can even give you more room to work with. We discovered 5 reasons oversized headboards are a design necessity for small spaces.
Create a designated bedroom space
Let's talk studio apartments for a minute. A bed with a noticeable headboard may seem counterintuitive. You want to hide the bed, right? That's what many designers go for, tucking the bed away behind shelving or rolling walls. But with an oversized headboard, you can keep the bed out in the open while still creating the effect of a designated bedroom space.
And we don't mean using the headboard as a way to mask the bed. Putting a large headboard up against a wall creates a second texture and color, apart from the wall, which is probably uniform across the apartment. This technique works especially well for tenants who can't paint the walls in their studio apartment.
Yes, the bed is still open and not in its own enclosed space. But if what your design client is looking for is the cozy feel of entering a bedroom space, rather than actual privacy, then a large, cozy headboard is just the right piece of designer furniture for the job.
Let the headboard pull double duty
We've seen several techniques for making oversized headboards a multifunctional piece of furniture. Try one of these double-duty styles.
Get a reflective headboard
Headboards made from reflective metal shine more light into the room. This is wonderful for small spaces, making them look more airy and open. It's also a good technique for rooms with dark paint and furniture, to help lighten up the space.
Make the headboard work as seating
In a small bedroom, you probably don't have room for both a bed and a reading chair. But you can get our custom furniture makers to design a large, plush headboard that's perfect for sitting up against in your bed.
Add a footless nightstand
An oversized headboard can double as more than seating for a room that's short on space. You can attach a piece of shelving to either end of the headboard to create attached nightstands. It works as a place for a lamp, a glass of water, and eyeglasses. This takes away the need for an extra piece of furniture and saves space on the floor.
Make the room look bigger
Speaking of saving space on the floor, utilizing your headboard for attached nightstands makes the space look bigger. Anything you can do to reduce the bulk of furniture gives a lighter visual weight to a room. But because the headboard is typically against a wall, it doesn't add bulk to the look. Instead, it can create the illusion that the walls stretch further away from the bed, especially if the floors around the bed are kept cleared of clutter.
Add colour to the space
Painting is a quick and inexpensive way to change up the look of a room, but you have other options for adding colour. And sometimes, painting isn't an option, such as in apartments. An oversized headboard, however, takes up a vast portion of the wall. Any colour can be used on the headboard, and it changes a whole section of wall space.
Work with any design style
We've seen so many variations on the oversized headboard trend. A white or neutral headboard with no detailing works with minimalist style. Even just wood can be used and stained without any upholstering for a very simple aesthetic, or for those who enjoy naturalistic design. Velvet or patterned headboards with button tufting work well for those with more eccentric or maximalist tastes.
Oversized headboards work in any room. Our team of Toronto custom furniture makers at Louis Interiors can design and build a custom headboard in any size you need. The dimensions of the room don't matter.
If you'd like to try this trend in an especially small room where you think an oversized headboard won't fit, don't worry. We'll get the exact measurements needed and create the right headboard for the space. An oversized headboard doesn't have to be larger than all the other headboards; it just has to be in charge in the room it's in.