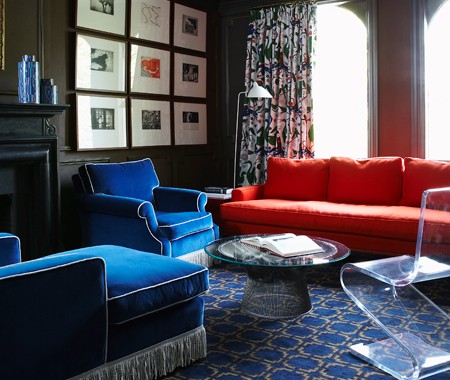 5 Unusual Places to Put Your Couch
Before we get into furniture arrangement, let's talk for a minute about what exactly a couch is. The term couch is often used to refer to three distinct, yet similar, pieces of furniture: sofas, loveseats, and sectionals. Each piece has a rich history, but for the purposes of this article, we'll say the distinguishing feature is size. A sofa comfortably seats about three to four people. A loveseat is for two people only ("a couple"). And, the sectional is a larger piece that accommodates five or more people.
Because the couch comes in such varying sizes, it's a truly versatile piece of furniture that you may want to consider for more than just sitting in front of the television. Indeed, the family TV room may not be the only place for cozy group seating. Louis Interiors provides a variety of custom couches from Toronto, but where you choose to put them is only limited to your imagination.
Here are our 5 suggestions for new placement ideas:
Back-to-back sofas. If you have a large living room or an open floor plan in your home, you may have trouble finding the best way to arrange furniture. You're often left with a big, lonely looking space. One solution is to create an inviting, dual-function area by placing matching sofas back to back. This way, you don't walk into the room to see the uninviting back of a couch. Instead, the seating area of the space is maximized, and your family and guests can enjoy an area together even if different activities are going on in the space.
In the foyer. Do you have a foyer that's leads to several different rooms in your house but doesn't have much personality or function itself? You may consider putting a loveseat against the side wall in that entryway. It gives people a place to sit while removing shoes, or a place to put down your purse or laptop bag when you come home. This idea even works if you have a stairway in your foyer. Just push the loveseat up against the stairwell wall. Placing a small couch on the side wall avoids the awkwardness of having it face the door as people enter.
In the bedroom. A small couch can make additional cozy seating in your bedroom, and can be a welcome enhancement to the mood of the room. One way to work a couch in your bedroom is to place a loveseat with a low back at the foot of the bed. If you have a large window in your bedroom but no window bench, that may be another good place for a loveseat.
In the kid's room. Depending on how spacious your kid's room is, you could use any type of couch, whether it's a loveseat, sofa, or sectional. These pieces of furniture create fun spots for kids to hang out with their friends without having to use the living room or family room space. Since your kid probably doesn't have a queen or king size bed, like the master bedroom might, a couch may even be the star piece of furniture in their room. It can also be used to create a place for completing homework or reading.
In the office. That's right, your comfy couch doesn't have to be in your home at all. Couches make a great detail for keeping business guests comfortable while waiting, or even for informal business meetings. You probably don't want a loveseat for this purpose—after all, you don't want to get too cozy with business guests! But, a high-end couch shows clients and colleagues that you have considered their comfort in your business space. For restaurants, couches can also make welcome seating in your lobby area. Your guests may just appreciate the plush cushions more than a hard bench.
Couches don't have to relegate to the living room. Your space represents your personality, and when it comes to building a décor that represents you, you have no limits on what you can do. Louis Interiors is happy to help you create a stunning piece for any room in your home or office!