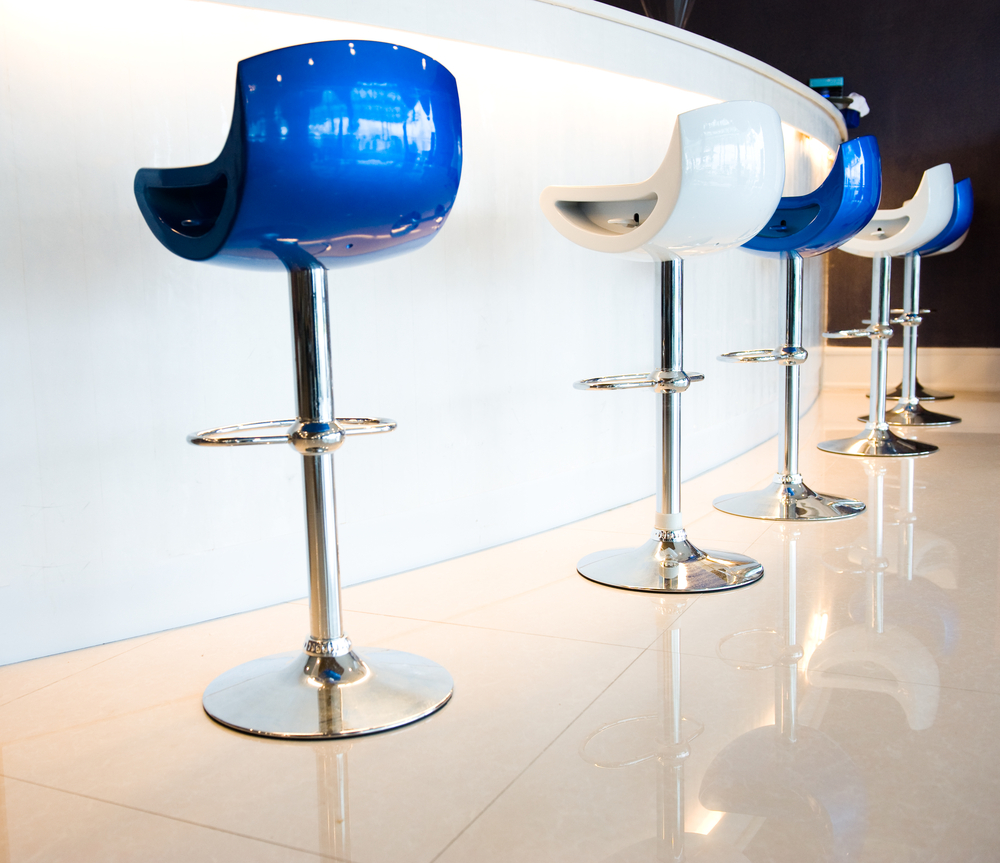 Barstools to Make Your Bar Area Stand Out
Barstools can be an overlooked aspect of restaurant design. Many people figure as long as the color matches the rest of the décor, you just need a basic barstool that provides seating at the bar. And there's nothing wrong with a very simple looking barstool if that fits your aesthetic. But sometimes you need something that draws a bit more attention to the bar area. If that's the plan for your New York restaurant, we have the best ideas for using barstools to make your bar area stand out.
Consider backed barstools
The most basic barstool design is a square or circular seat on four legs. But you can really expand your design options simply by selecting a barstool with a back. In many ways, the backed barstool adds elegance and luxury to your restaurant furniture. It gives the appearance that you have comfort in mind, even for guests who are waiting at the bar. And when your barstool has a back, you have more opportunity to show off a beautiful upholstery pattern or add accents like nail head trim, wooden trim, or leather accents.
Additionally, barstool backs come in a variety of styles, so you can really tailor them to the aesthetic you are trying to achieve. For instance, the back can be attached to the seat, or it can be raised with a space between the seat and the back, like our Barstool No. 303. The back can have a cutout section like Barstool No. 258. Or we can even make barstools with armrests, providing an additional layer of sophistication and luxury to your bar area. Just because barstools sit higher does not mean they cannot have the same attention to detail and beauty in design.
Of course barstools without backs also have their place, and they can also be crafted with beautiful design. Going with a simple backless barstool is the perfect restaurant furniture for a minimalist aesthetic. And you can personalize the appearance by selecting a finish that really stands out.
Be daring with barstool upholstery
Upholstery selections for barstools are just as varied as any other seating choice, like dining chairs or banquettes. You can make the upholstery on your backed barstools match on the seat and back, or you can try a combination of vinyl seating upholstery and fabric on the barstool's back. The bottom line is, barstools absolutely do not have to be boring. Sometimes you need seating to blend in, and if that is the case we can certainly provide classic looking barstools in the wood finish you require.
But barstools can also provide a dramatic flair. Think about the image you are trying to convey with your restaurant. There is no easier way to get the right look than selecting custom restaurant furniture. Any fabric pattern available can be used to upholster your restaurant's barstools. There is really no limit to your options when you are working with a custom furniture manufacturer like Louis Interiors.
Get the height right
While you're thinking about style, don't forget about the practical design aspects of your restaurant barstools. The good thing about custom restaurant furniture is that you can get the dimensions just right for the area you are working with. Barstools can come in different heights, and our team can help you make sure you get the right measurements so that your guests can sit comfortably in the bar area.
If you need unusual barstool dimensions, it is absolutely no problem. Louis Interiors specializes in custom furniture and unique sizes. You don't have to worry about searching all over the place for pre-made barstools that fit your counter and your guests' needs.
Each piece of the barstool frame is hand measured to ensure uniformity, and we always review your design with you before we begin crafting your restaurant furniture order. To do this, we use CAD software to create a digital image of your design. And once you've seen the blueprint, you can decide if any changes will be needed before production begins. This ensures that the end product you receive is exactly what you were expecting.
Louis Interiors is a superior manufacturer of custom restaurant furniture for New York. Take a look at our catalogue for more ideas.