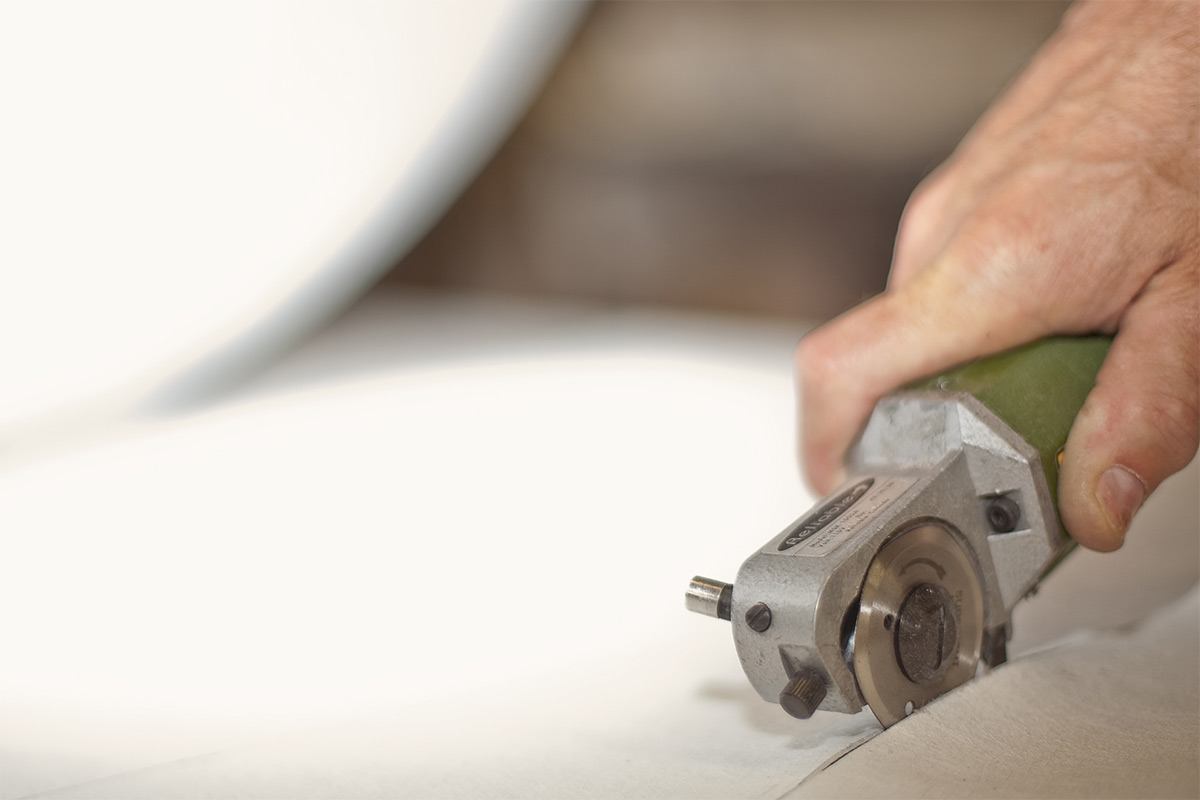 If there's one thing that can help bring a piece of furniture to life, it's the fabric. Fabric – pattern, colour, and material – can radically alter the look of a piece of furniture. In my own experience, I've noticed radical colours make an upholstered sofa sing or an overly complex pattern distract from the furniture's silhouette. The difference fabrics can make is readily evident in some of our reupholstered projects. But fabric selection usually comes down to the customer's personal preference and that's why in this post, I'd like to veer away from aesthetics and discuss some Fabric Facts, specifically:
1) Railroading Fabrics – When is it Necessary?
2) Rubs and Double Rubs – Is Your Fabric Strong Enough?
3) Fabric Flammability & Standards
4) Fabric Outlines & Overages
1) Railroading Fabrics – When is it Necessary?
"Railroading" refers to the fabric layout relative to how the fabric is woven at the fabric mill. The term comes from the fact that the pattern is laid out running along the roll and looks like train tracks.
Conventional fabric is typically milled running up the roll, as seen in the above picture. Railroaded fabric is milled so the pattern runs across the long side of the roll; the top of the pattern is along one side and should be applied horizontally, as seen in the bottom right picture above.
Railroading fabric is useful for cushions that exceed the width of the fabric roll and would have an unattractive seam where the fabric is sewed together. Railroading is seamless and perfect for long couch backs.
2) Double Rubs – Is Your Fabric Strong Enough?
Double Rub is the test used to determine fabric strength. One double rub is a back and forth motion that simulates the weathering of someone sitting down and getting up from an upholstered seat. Fabric strengths are categorized as Heavy Duty, Medium Duty, Light Duty, and Delicate Duty.
Heavy Duty (HD)
>15,000 Double Rubs
Commercial Grade Fabric = >100,000 double rubs
Medium Duty (MD)
9,000-15,000 Double Rubs
Light Duty (LD)
3,000-9,000 Double Rubs
Lasts approximately 1-3 years of regular use
Delicate Duty (DD)
<3,000 Double Rubs
Purely decorative
Can be used for pillows
A higher double rub count is always recommended to ensure your fabric lasts as long as your custom furniture frame. Typically, we work with fabrics that have a 100,000 double rub count or higher, guaranteeing a long lasting final product.
I hope you learned something useful about railroading fabric and double rub counts! And will consider it when selecting your next fabric!
Coming soon: Fabric Facts, part 2! Including Flammability & Standards, and Outlines & Overages