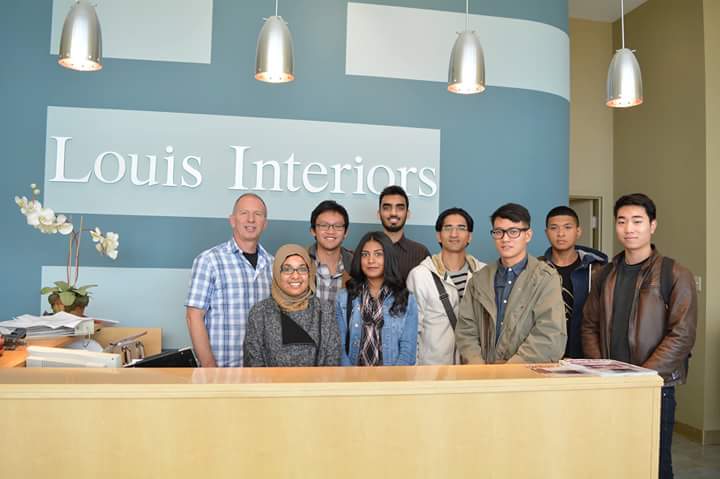 Guiding the Future of Toronto: Our Recent Factory Tour
In accordance with our desire to actively participate in the education of future woodworkers, fine furniture makers, and business owners in Toronto, we recently invited students from Ryerson University to attend a tour of our factory. We loved having the students here to see what it's like to run a custom furniture business that caters to many local hotels, restaurants, and individuals. Louis Interiors company President, Bill Muller (pictured with students from Ryerson University), personally greeted the students and showed them around.
The tour was just one small part of our efforts to ensure a growing economy and vibrant future for Toronto and its residents. Our other efforts include utilizing local resources, like Canadian soft maple wood from Ontario forests, and recycling our wood waste products for use on nearby farms. And, as always, we were happy to school them in what it means when you say high-quality furniture from Toronto.
Lessons in running a fine furniture factory
The tour was an educational experience for the students, and our team had a great time showing them what we do. We walked them through several different processes for maintaining smooth operations.
Our manufacturing process—We were excited to show the students how we build our fine furniture pieces here at Louis Interiors. We take pride in a process that we think is the best way out there to craft furniture. The students got an up-close look at what it takes to get the resources from drawing board to a beautiful finished product. Some of our techniques include the use of multiple joinery methods, hand-tied and no-sag springs, down and foam cushion construction, hand finished maple wood frame construction, and individually sewn upholstery. We continue to use traditional European construction methods in the manufacture of our custom furniture.
Process management—Any students who were interested in managing or running a business in the future were sure to benefit from seeing how we handle process management. We keep an efficient work structure that allows our handcrafted furniture to get from our schematics to a finished, upholstered piece as quickly as possible without sacrificing quality. And, that's really key. Louis Interiors is about quality, custom construction, not churning out large quantities of the same piece on an assembly line. We want to show students that real future success is found in providing quality to both customers and workers.
Inventory control—Students learned firsthand about the requirements for maintaining accurate inventory records and acquiring just the right amount of inventory for a particular business's needs, an essential skill in many different industries.
Health and safety of employees—As mentioned under process management, a successful business cares not only about the quality provided to customers, but also the quality provided to their own employees. At Louis Interiors, we hire skilled craftspeople who specialize in making pieces ordered to our customers' specifications, and our workers are very good at what they do. We know that our company would be nowhere without their dedication, and we make sure that we provide value to our employees by providing a safe work environment that protects them from airborne particles and fumes associated with the processes of manufacturing and finishing furniture. We hope that students take away this lesson to their future businesses and workplaces. The quality you provide to your customers starts with your employees.
Quality control—Each completed piece at our factory is examined for quality control, and students were able to witness a completed construction and learn what we look for to determine that the piece meets our high standards of quality. That includes sturdy wooden frames with secure joints, undamaged upholstery, smooth wood finishes, and expert stitching.
We hope the students from Ryerson take these lessons with them to wherever they go in their futures. Louis Interiors is proud to be Canadian and support the local economy. We look forward to our next chance to give a factory tour to the future woodworkers and young business people of Toronto. If you'd like to learn more about our custom furniture techniques, check out other topics on our blog or visit us on Facebook!