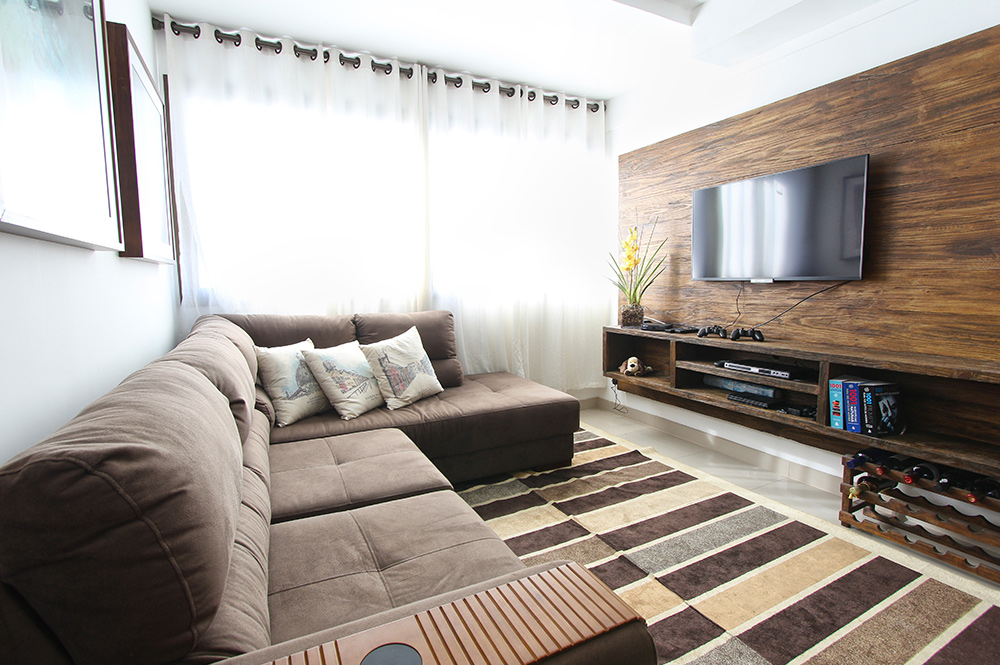 Here's Why a Small Space Demands a Large Couch
If, like many people, you think you need to find small furniture for small spaces, then you've been misled. Yes, you have to be mindful of size in tiny spaces, but the truth is that a large and in charge couch is the perfect addition to a small home or apartment. Think custom couches made for the space and sectional sofas that take advantage of corners.
No one wants to visit friends only to cram together awkwardly on one tiny piece of furniture or just stand around because there's nowhere to sit. That's why in small spaces, it's important to select a couch that demands attention, becoming both practical seating and statement piece.
The good news is you can fix awkward seating arrangements in small spaces with these helpful tips from Louis Interiors in Toronto. You're about to discover why a big sofa is the exception to the rule of avoiding seemingly disproportionate furniture. Let's get started.
Expand visual boundaries
Sure, bulky, oversized furniture can make a room feel cramped and visually overwhelming. Sofas, however, are usually the biggest furniture in a space anyway. Let's put it this way–people are going to see the sofa. So why not go big and bold?
In fact, choosing a larger couch (as long as it physically fits in the room) over a smaller option can actually make the room look bigger. That's because people's gaze goes to the couch, and with a big couch, they see plenty of inviting room for getting comfortable. A small couch may even make the room feel more cramped because there's simply not room for people to get comfortable.
More comfort
Even when guests are not over, having a large couch for lounging is a huge benefit for most people. Who wants to feel like they don't have the room to relax in their own home? The couch is the place where people chat, nap, watch TV, sit or lay down to read, and pretty much everything else they do in the living room.
Keeping the rest of the room tidy and not overfilled makes the sofa become just a part of the room. It feels like the space is one big lounge area.
Large couch options
There's no limit to what types of big couches can go in small spaces (well, aside from couches that actually exceed the size of the room). Even couches that expand from wall to wall are fair game. If you're working with an unconventionally sized room, consider looking at custom couches. You can make sure the dimensions are as big as possible for maximum lounging without being too big to get in the living room. Custom made furniture has the additional benefit of being able to be made to match any décor scheme.
Sectional sofas are another option. They can actually help you to save space while maximizing seating area. That's because you may be able to better fit a sectional into a corner of a small room than try to put a couch on one wall and additional seating elsewhere.
Yes, these couches might take up a lot of the available space. There's no denying it. But you can keep the room from looking crowded by pairing it with smaller pieces. For instance, you don't really need a big coffee table, and if you have to choose one or the other, most people are going to want room to sit or lay down.
Extra small space couch tips
Remember that choosing a too small couch doesn't only limit the seating arrangements, it can actually make a space look smaller and less comfortable. Imagine walking into a room with a tiny little couch and thinking, there's not even room to fit a couch in here! That's the visual aesthetic when a couch just isn't big enough.
As mentioned above, large couches can expand visual boundaries. You can help that approach along by possibly choosing a couch in lighter colours. Light colours tend to be less visually heavy and reflect more light in a room. Small, dark rooms are likely to feel like a cave. Another way to make the couch work harder at creating visual space is to select a style without a skirt on the bottom. An open bottom (one where the couch legs are visible) lifts this big piece of furniture off the floor and makes the room look less cramped without sacrificing seating area or comfort.
Now that you know why your small space project demands a big, bad sofa, reach out to our custom made furniture team to get the perfect piece.