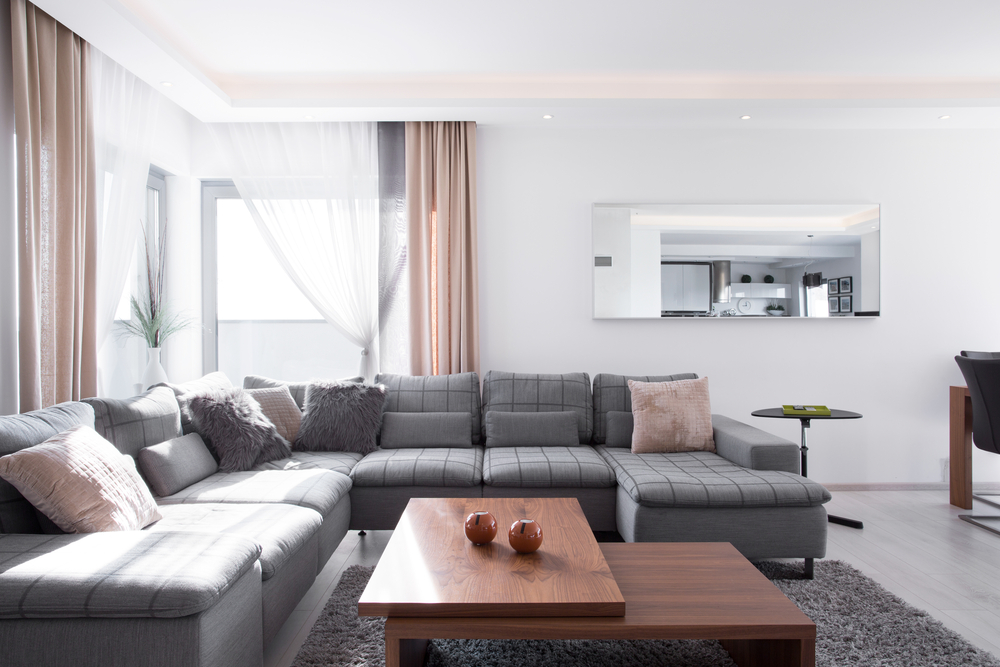 In a Furniture Rut? Get Yourself Out with 7 Updated Ideas for Your Sofa
Louis Interiors strives to stay on top of furniture design trends so that we can offer the best options to our clients. Sometimes, it's easy to fall into old patterns and end up with a boring furniture arrangement or room. Since the sofa is often primary furniture piece in family rooms and spaces used for entertaining, it makes sense to put thought into how it looks. To shake things up, we're giving you seven updated ideas for your sofa.
Explore shape
You are likely used to seeing rectangle sofas. They may be loveseats, couches for three to four people, or sectionals, but they all take on a rectangular form. But, custom sofas don't have to stick to the same old style. At Louis Interiors, we offer beautiful curved sofas in a variety of sizes. The advantage of a sofa that curves inward is that it allows the individuals on either end of the sofa to be turned slightly in towards each other, making conversation more intimate. A curved sofa works wonderfully in a small, cozy space, or in a larger space where you want to provide a more intimate feeling.
Try stripes
Stripes are an underutilized pattern on custom couches. You see pin-striping somewhat often, but you can completely modernize the look with wider, contrasting stripes. Black and white stripes in the same width as each other gives your a couch a modern edge. If black and white are too bold, try a sofa with complementary neutral and pastel or white and cream stripes. The effect will be toned down, but it still makes a statement.
Consider a chaise
You don't necessarily need a traditional sofa at all. If you are decorating a space that will be used for just a small group of people, you may want to try a chaise instead of a sofa. It gives a more elegant feel than a loveseat but still seats one to two people. And, when you need somewhere to go to relax, a chaise is the perfect place to lie down and read or listen to music. For smaller spaces, you can combine a chaise with an armchair to provide additional seating. Or, if you need to break a room into sections, you can place a chaise against the back of a sofa to create two separate seating areas.
Forget overstuffed
Many of the design requests we get are for sleek, modern sofas. The bulky, overstuffed couches from a few decades ago are being replaced in favor of couches with shorter, slimmer profiles. The cushions are less deep so that people can sit comfortably while using a laptop on the couch. And, the exposed feet create air space between the sofa and the floor, making the room look lighter and more spacious.
Go cozy
We've mentioned size a few times, so while we're talking about it, let's discuss loveseats. If a chaise is not what you are looking for, but you don't want a large couch or sectional taking up all the space in your room, loveseats are the perfect solution. For a while they were relegated to front rooms or as additional seating where the larger couch was the star. But, loveseats make a statement in their own right and can be the primary seating in a home with only a few people living in it. Don't feel like you have to fit a large sofa into your space.
Reinvigorate with pillows
The pillows you choose can make a major difference in the appearance of your custom sofa. Maybe you're not ready to try a bold new sofa trend. But, you can test it out by placing a couple of colourful pillows on your couch. Try bright orange pillows on a neutral couch or striped pillows on a solid couch. You'll get an updated look with less commitment. And, if you decide to go with a new couch trend, you can always get custom pillows to complement the look.
Add industrial details
One more trend that we are seeing more and more is the bare, industrial look. We apply this look to our sofas by creating unique pieces with exposed metal framework rather than finished wood. The metal gives the finished couch a very minimal and edgy appearance. It's the perfect update for a daring individual looking for a new sofa.
Get out of your furniture rut today by browsing the Louis Interiors product catalogue for ideas.