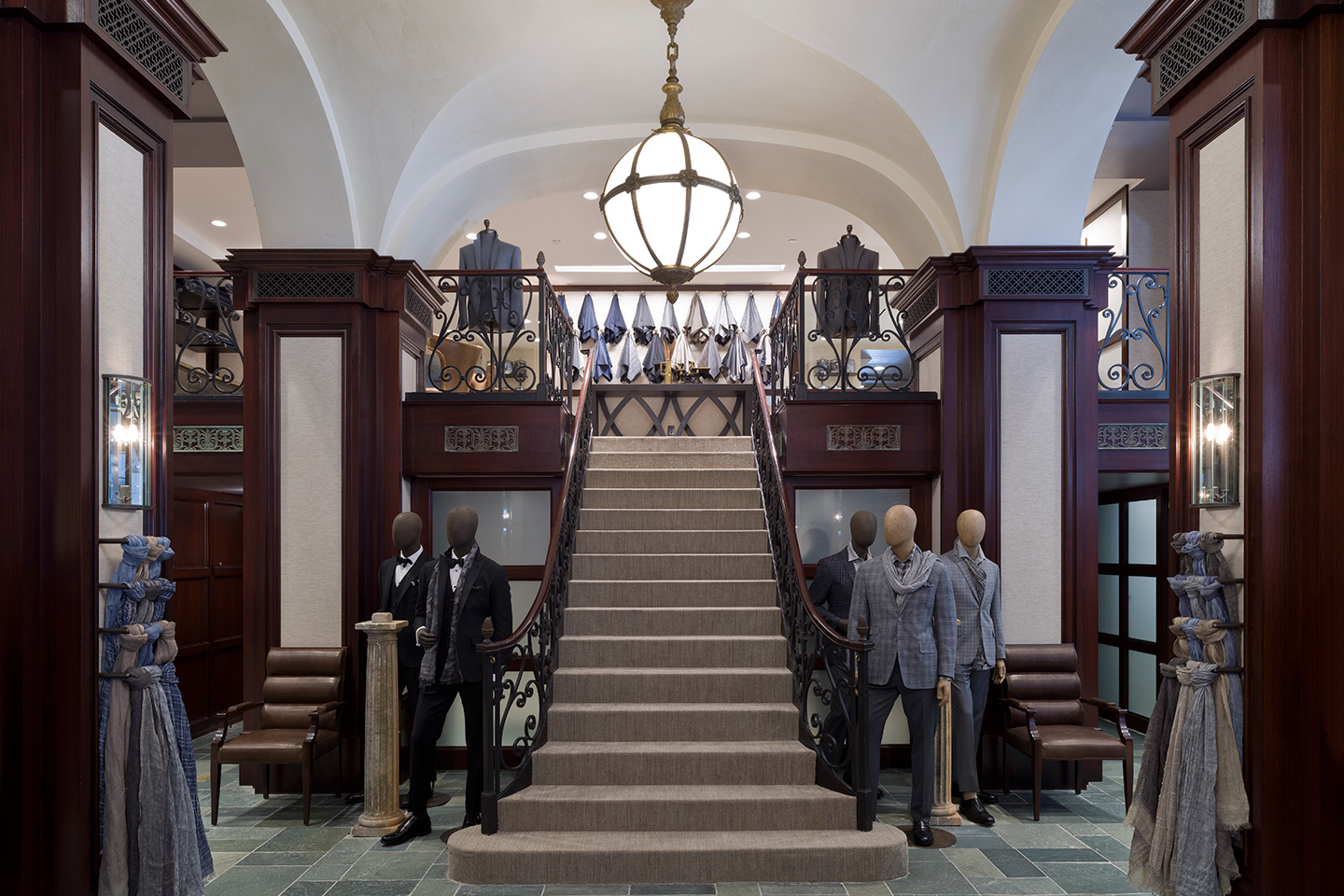 Louis Interiors' Role in a 2016 Silver A.R.E. Winning Project
Louis Interiors is proud to have taken part in a project for the Joseph Abboud Madison Avenue Store in New York. The design project won a Silver Award in the A.R.E. Design Awards for 2016 under the Softline Specialty Store category. The designer-architect on the project was Jeffrey Hutchison & Associates. We contributed by collaborating with other top design and furniture teams to create an upscale retail project for Joseph Abboud Madison Avenue Store. Read on to find out more about the award and how Louis Interiors can bring award-winning furniture and upholstery to your New York business.
2016 A.R.E Design Award
In addition to awarding design, A.R.E. is actually a non-profit organization that is dedicated to enhancing the experience of shoppers, and part of the concept behind the award is honoring retail stores for exceptional service to their customers. At Louis Interiors, we could not be happier about playing a role in promoting excellent customer service. Every step of our process is designed around meeting client needs and providing the highest quality available in New York retail furniture and fine furniture for commercial and residential projects.
Winning the Silver Award is about participating in a project that took the extra step to make sure our clients and their retail customers are getting exactly what they need. And the fact that we could be a part of making timely and high-quality service happen for the end client makes us proud to continue serving New York's custom furniture needs.
Like A.R.E., we always strive to take a role in educating newcomers in the industry. In fact, our President Bill Muller has personally taken it upon himself to maintain a presence in higher education to help the next generation of business people continue to see the benefit of placing quality at the top of their business goals. In the past year, he conducted tours of our factory with students from Ryerson University and he is a member of the Humber College Woodworking Advisory Board.
Fine furniture for New York retailers
Our retail clients in New York are always on the lookout for fine furniture trends. That is because they understand a major part of the shopping experience is the design and atmosphere of their retail store. Although much shopping is now available online, studies show that consumers still like to leave their homes for the shopping experience.
And what makes the experience of visiting a physical location to shop more desirable is luxury. Customers at physical stores often enjoy having the leisure to browse, and you can extend their visit by making it more comfortable. An easy way to do so is to incorporate chairs and benches into your design. When customers have an appealing place to sit down, they don't have to leave your store for a rest when their feet get tired.
Shopping is an enjoyable activity for many people. It's a way to unwind and spend time with friends. The best New York retailers understand that they are creating an experience for their customers. And that means your retail furniture should be both comfortable and on trend. That's why it is so important to work with an experienced custom furniture manufacturer for New York.
Louis Interiors has been in the business for over five decades, and we make it a point to stay on top of the furniture styles that provide the best form and function. In addition to providing you with the widest selection of design options, we also source upholstery fabrics that are made to stand up to a retail environment. Our commercial grade fabric options allow you to achieve the look you want with quality that lasts through years of daily traffic from customers.
When you work with Louis Interiors, you get:
Control over the design
Input from our experienced team
Solid maple wood frames from sustainable forests
Handcrafted quality
Louis Interiors can help you create a luxury experience in your retail store. We provide classic and modern custom furniture designs in a variety of fabrics and colors. Give your customers the right impression with unique pieces they will only find in your store. Talk to us today to schedule a consultation regarding the best retail furniture for your business.