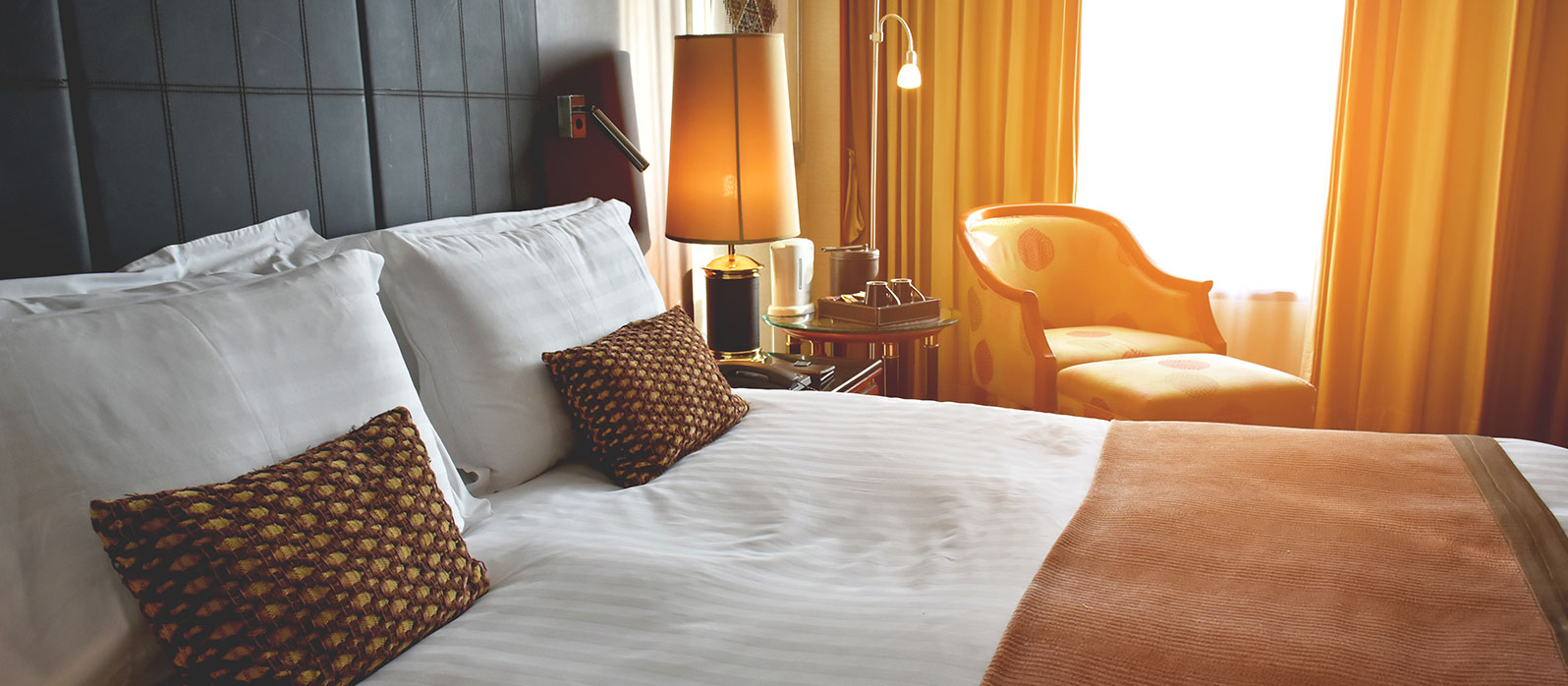 Make Your Luxury Hotel Look Cleaner with the Right Décor
Did you know that by using the right hotel furniture and other décor, you can actually make your hotel rooms look cleaner to your guests? We're not suggesting that you don't tidy up and keep your rooms clean. It's just that certain design themes can make a space look dingy and dirty, even if you clean every day.
Wouldn't it be better if your clients perceived your Toronto hotel to be cleaner than other luxury hotels? They will if you follow these luxury furniture and interior design tips.
Choose fewer colours
White has been a popular colour to represent clean and pure aesthetics for quite a while. And it's true that white in hotel rooms does look airy and clean, as long as you can keep everything looking bright white. But you don't have to stick to an all-white palette in order to get that bright, clean feel in your hotel rooms.
Instead, just keep your colour selections (whatever they may be) to a minimum. Two or three complementary colours is plenty to decorate a room. When you add too many colours to one space, it starts to look cluttered and chaotic, even if there isn't that much stuff. You can also try multiple shades of the same colour to keep things coordinated without overthinking the colours.
How to add it to your furniture plan
Curtains and paint are fairly easy to change up. So if you already have furniture you want to keep, consider switching to matching colours for the minor accessories and details. Another option is to have the furniture reupholstered instead. We often reupholster existing luxury furniture pieces for our clients. And if you're totally starting from scratch with your interior design, we suggest custom furniture. It allows you to get exactly the upholstery colours and patterns you want.
Don't think you have to avoid patterns to keep things clean, either. Simple stripes or geometric shapes can work as long as they don't repeat too often throughout the room.
Limit furniture variety
Ideally, a hotel room should provide all the luxuries guests need without anything extra getting in the way. When too many furniture styles distract your guests' attention, it's more difficult for them to relax their mind because their eyes are wandering around all the different sizes and shapes. Pick a custom furniture style you like, and if you need more than one chair or chaise lounge in a room, get two of the same.
How to add it to your furniture plan
Furniture is one of the most important parts of decorating guest rooms. They have to be both functional and aesthetically pleasing. Rather than choosing opulent or complicated designs, it may be better to opt for smooth lines and modern designs. Such pieces work well in nearly any décor theme and can be customized to suit the exact look you're going for.
Stick to one style
It's not just about limiting your colour and furniture choices. Taking the time to put together a cohesive style for your rooms makes everything look like it belongs. And when it looks like it belongs, it doesn't look like clutter. You don't need to make the entire room match exactly or look fake. Just make sure that each item you add has something in common with at least one other item in the room, as far as colour, style, size, or time period go.
How to add it to your furniture plan
Don't be afraid to add standalone pieces of designer furniture. You can, for instance, provide an ottoman for extra comfort. It won't look like clutter if you get it upholstered in the same fabric as a sofa or arm chair. Just try to keep everything balanced by avoiding pieces that dominate the room or look out of scale with other décor.
Adding these tips to your next hotel interior design project should help you stay on track and avoid going overboard on the decorating. More stuff doesn't mean more luxury. Give your guests some space to unwind by providing visually clean guest rooms. We can help you achieve the right look for your hospitality business with our custom furniture from Toronto. Give us a call to talk about what we've done for our previous hospitality clients.