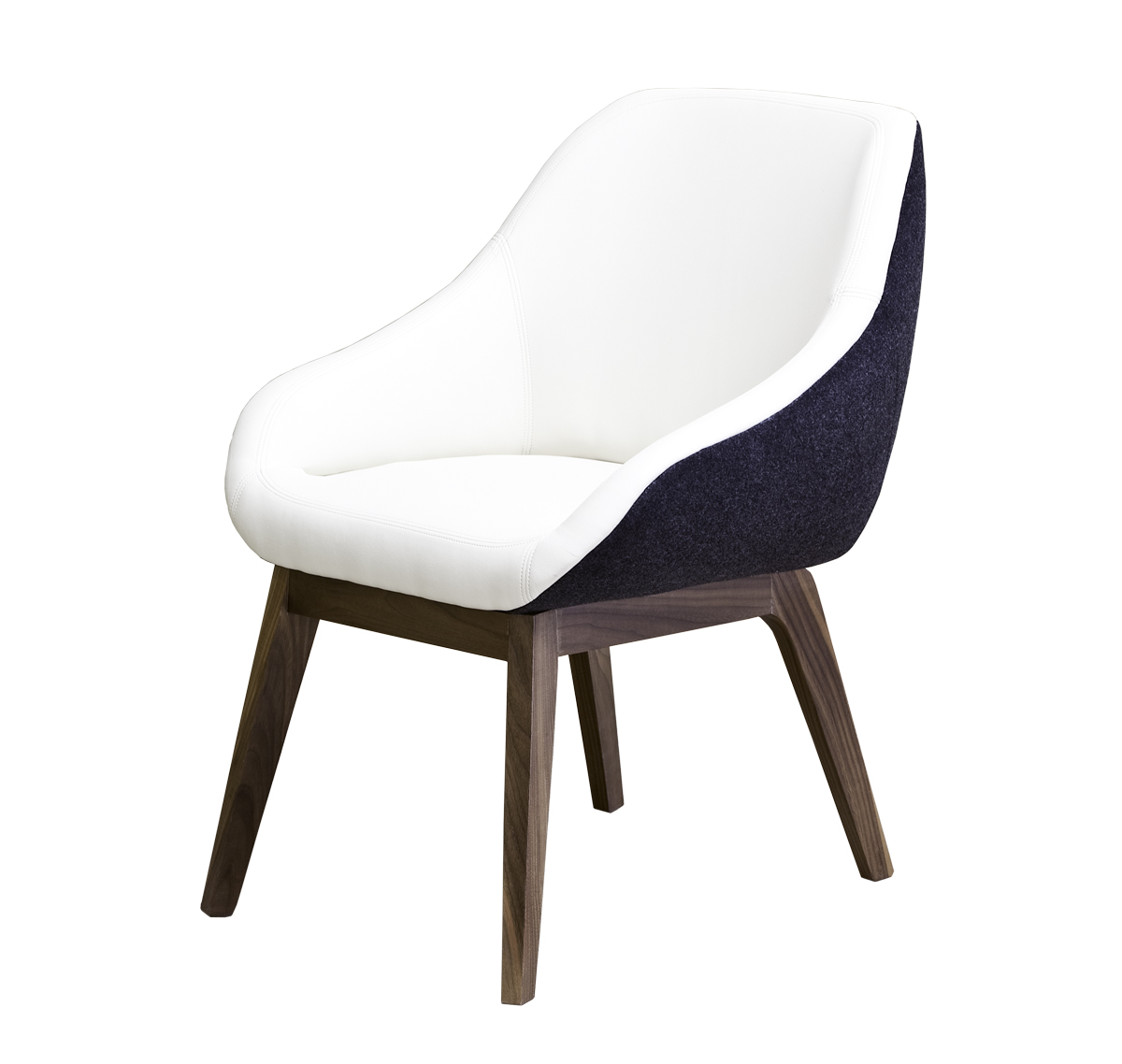 New from Louis Interiors: A Versatile Design
We always strive to create fresh looking furniture that fits our clients' tastes. That's why we continue finding bold, new looks for our Toronto custom furniture. We'd like to introduce you to our newest design: #315, a chair that lives up to the standards of Toronto's leading fine furniture manufacturer. This versatile chair can be customized to function as either a lounge chair or dining chair. Allow us to walk you through the details and options.
You choose the fabric.
Unlike furniture from showrooms, you do not have to settle for the colour shown in our catalog. We'll customize your piece to match any décor, whether you want to go bright and bold or subtle and neutral, or even a contrasting pattern.  You can supply us with the fabric and we will make sure to tell you how much material will be needed for the design you want. We will provide you with accurate Customer's Own Material (COM) requirements for plain fabric, patterns, leather, or vinyl.  We also offer stain guarding, so you don't have to worry about maintaining the appearance of your custom furniture.
You choose the finish.
Our frames are always made from durable kiln dried maple. However, the legs of chair #315 come in a beautiful, medium-toned walnut. Of course, that doesn't mean you can't customize the appearance. If you choose not to keep the standard walnut legs, you can opt for the legs to be done in maple wood with custom stains. One of the advantages of our soft maple wood is that it readily accepts a variety of stains and lacquers. We can customize your chair legs to match existing wood from a variety of sources, ranging in shades from light to dark. Whether you choose walnut or maple for the base, we always choose wood from sustainable forests.
You choose the function.
Our new chair fills the roles of lounge chair and dining chair equally well. The spacious upholstered seat offers exquisite comfort, and you can count on our environmentally-friendly foam filling to provide superior support. The wood legs give this chair classic style that fits with a range of aesthetics.
#315 makes a comfortable dining chair either for the home or in your restaurant. In fact, you can view an example of this chair in person at Yorkville Sushi—Kasa Moto Restaurant. Its modern design features clean lines and sleek, simple legs. You won't find unnecessary ornamentation on this piece of furniture. Instead, it offers a minimalist elegance that stand on its own.
We're proud to serve our clients with their restaurant furniture needs. This chair offers durable upholstery that lasts through daily interactions with guests coming and going. The lacquered wood legs resist stains and mold, making them easy to clean and keep looking new. Additionally, the upholstered seat, back, and arms create a feeling of luxury you don't get with standard wooden dining chairs. After you've experienced the feel of foam-padded upholstery, you and your guests won't want to sit on run-of-the-mill chairs and barstools again.
If you like the look of #315 but want something a bit more casual, you may be interested in our lounge chair #309. It has a similar aesthetic, but offers a more spacious seat—both wider and deeper. As always, you're in control of the final appearance.
Our Toronto fine furniture features a level of customization you'll be hard pressed to find anywhere else.
Custom fabrics
Custom finish
Custom stains
Custom accents
Customized dimensions
Don't be afraid to ask us for what you're looking for. We'll even use your fabrics in order to match an existing furniture set. We take pride in keeping our clients informed through every step of the production process. We don't start manufacturing until we understand exactly what you want. Find out why custom furniture is the highest level of luxury by browsing our catalog or talking to our team today.