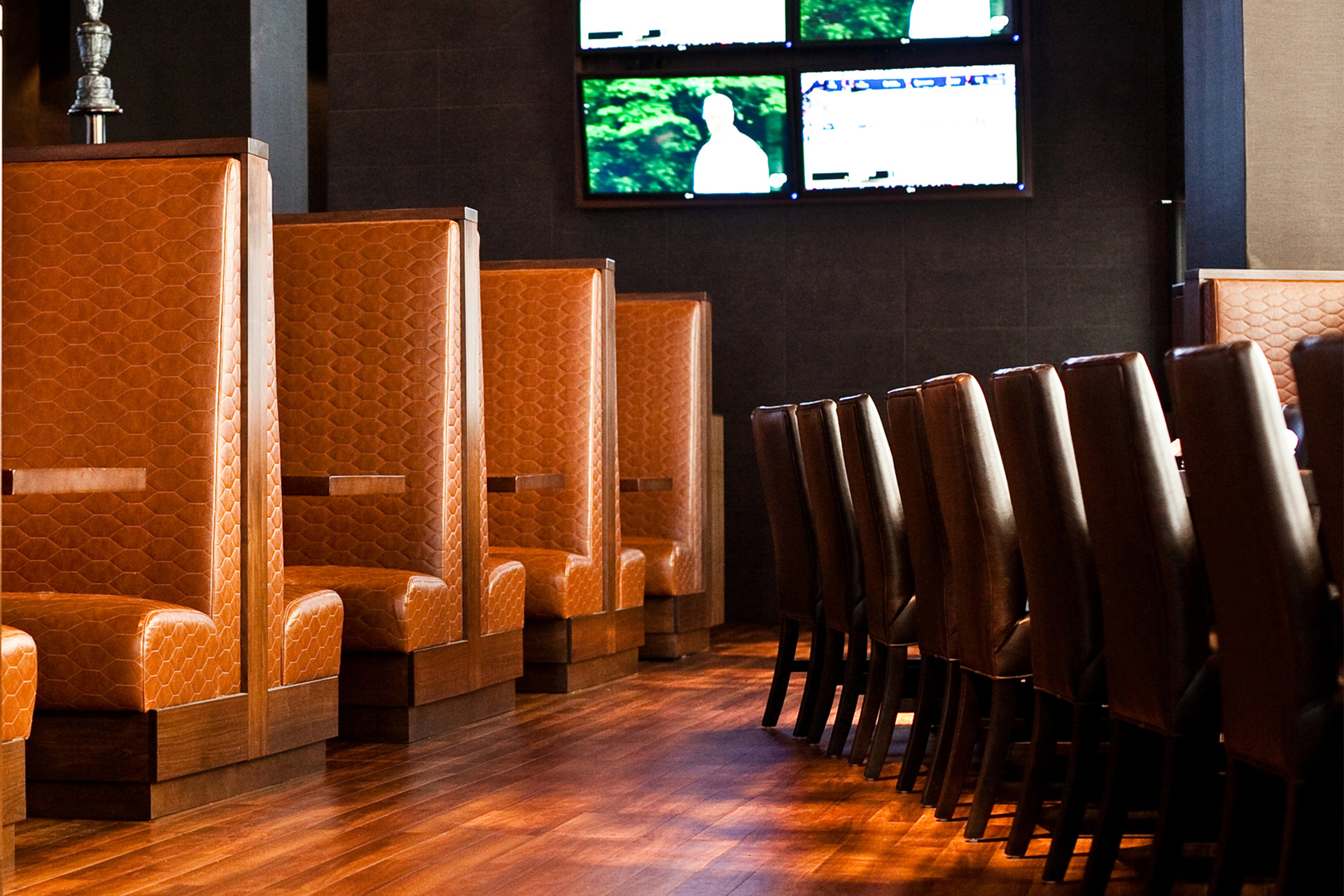 Restaurant Chairs: How to Turn This Necessity into a Luxury
Are you guilty of considering only appearances when choosing seating for your restaurant? If you want your guests to stay through dessert, you'll need to consider the comfort and durability of the seating you choose. The basis of most establishments' seating is a set of well-built chairs, like our restaurant chairs from Toronto.
With chairs from Louis Interiors, you can get exactly the look you want and feel confident that you are purchasing quality items made to last. Put your guests' comfort in the hands of Toronto's finest custom furniture makers. This article walks you through the considerations we put into each set of custom made restaurant chairs and how you can make the most of them in your establishment.
Let Our Luxury Furniture Do the Talking 
You strive to make every dish perfect at your establishment, so why wouldn't you want the atmosphere to be just as enjoyable? The furnishings and décor are the first things your guests see and judge about your business. Before they've even tasted a bite, they will take in their first impression regarding the quality, comfort, and ambience of your restaurant.
No matter which style you choose, with Louis Interiors you always get:
Design input that allows you to control the look of the finished piece
A variety of high-quality fabric options, including bold colours, neutrals, and beautiful patterns
Your choice of finish for exposed chair legs and trim, with the ability to match the finish to the appearance of other types of wood
Frames made of durable, kiln-dried maple wood
Furniture made under eco-conscious conditions that utilize local resources whenever possible
Your guests will immediately recognize the difference when you use custom furniture makers. Our traditional European handcrafting methods create furniture that stands out. Additionally, we keep your industry needs in mind when designing our restaurant chairs. The high-grade fabric will stand up to the repeat friction of guests coming and going.
The Fine Furniture Consideration You May Be Leaving Out
Because our Toronto-made restaurant chairs combine the best of traditional methods and modern technology, your guests' satisfaction will last well beyond the first impression. Our chairs are made not only to look sophisticated and beautiful, but also to hold up to heavy restaurant traffic.
We make this durability possible with a variety of techniques. For one thing, our wood finishes prevent your dining furniture from molding or scratching, and provides excellent stain prevention. You'll be able to easily wipe away the mess from a dropped sauce ramekin without worrying about a lasting effect on the appearance of your furniture.
Best of all, durability does not mean lacking in comfort. Our chair cushions are made with two layers: a high-quality inner foam and an outer Dacron wrap. Dacron wrap gives a fluffy, rounded look to your chair cushions. Combined, the two layers ensure lasting comfort that doesn't flatten with repeated use.
If You Run a Restaurant, You're Familiar with These Scenarios 
Of course you have multiple options when it comes to seating for your restaurant dining area—chairs, benches, banquettes. But, chairs provide the most flexibility for you to maximize your space.
Sometimes your dining setup doesn't perfectly accommodate a particular group of guests. But, using chairs for at least some of your seating means you can move them around. For instance, if you have a large group, you may need to push tables together and bring chairs over to the area. Or, you may need to create extra space for a high chair or a wheel chair by removing a chair. These options aren't available with other seating types.
The One Place You Should Not Forget to Put Restaurant Chairs
Many guests who enter your restaurant are going to have to wait to be seated for a few minutes before dining. People hate to wait for a table, but you can make the experience better by considering their comfort before they're even in the dining area.
Restaurant chairs from Louis Interiors are versatile and work well as extra seating in your waiting area. In fact, having these extra seats is a great way to get more diversity in the appearance of you restaurant. You'll likely want all the dining chairs to match, but you can try a complementary colour or pattern for the waiting area chairs, which will help to designate this as a distinct area in your restaurant. Take advantage of this easy way to create an inviting atmosphere for your guests' wait.
If you have any questions about the options available for our custom furniture, feel free to speak with one of our knowledgeable team members. Being Toronto's premier custom furniture company means we listen to all your requests and work with you to craft the best furniture for your needs.