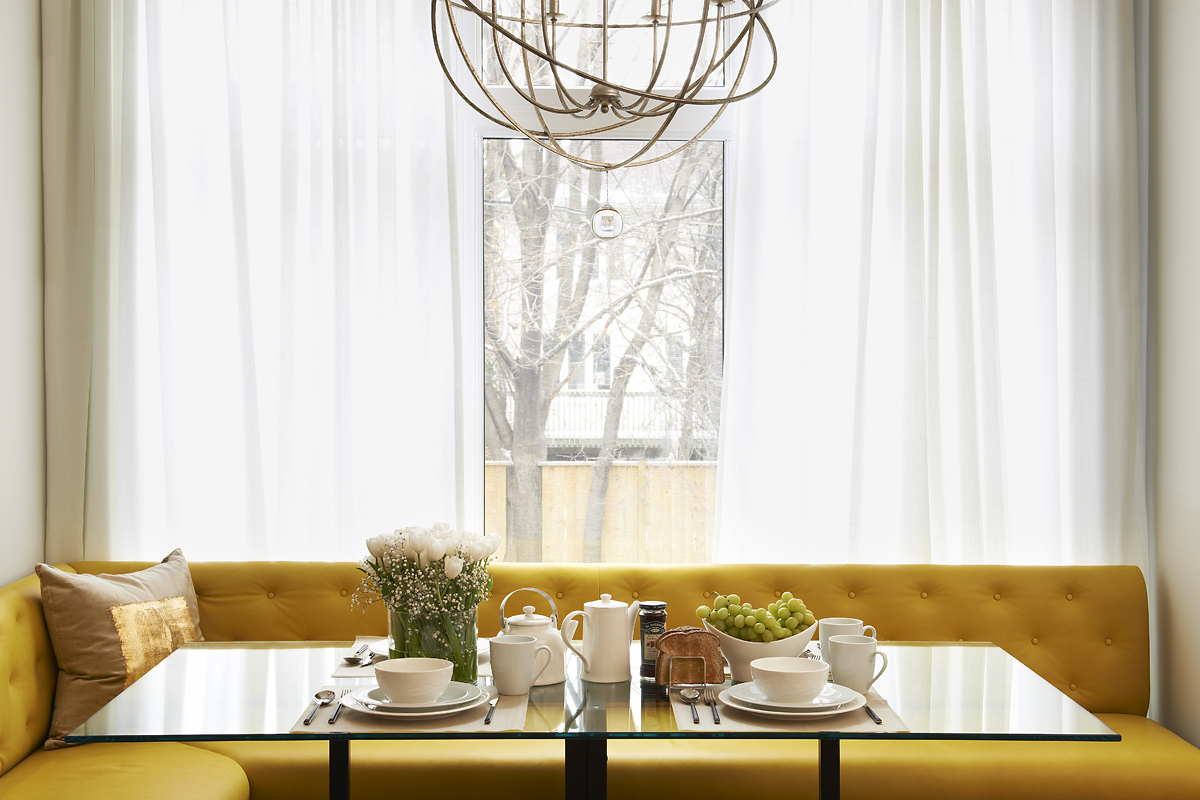 Small Space Solutions: Small Living Doesn't Mean Spartan Aesthetics
At various points in our lives, we may find ourselves living in a small space. Downsizing is becoming ever more popular, with many people choosing to live in less square footage. In fact, architects and designers seem to compete with each other on creating the smallest spaces that still provide full functionality and comfortable living. Whether your home is a tight squeeze because of circumstances or by choice, you can still fill your domain with stunning custom furniture from Toronto. Louis Interiors is up to the challenge of furnishing your smaller home or condo.
Your Toronto condo furniture or small home furniture should complement your living space. For instance, you don't have to give up the luxury of a stylish sectional just because of a tiny room. Louis Interiors measures out precise dimensions for our custom couches. We'll work with you to make the piece you love while ensuring that it doesn't overpower the space with its size. We're also mindful that your piece is not too small for comfort. Fortunately, the time of decadent homes is passing. A modern aesthetic embraces efficiency of space and clean lines.
Take a look at some of the features we include to give your home the right fit:
Save Space with Storage Furniture
When you have limited room, it makes sense to make the most of each square inch. Nothing makes a house look too small as much as clutter. When your belongings are stacked and piled all over your floors or surfaces, your abode ends up just looking cramped and unorganized. The best way to make the most of your small space is to keep each room as clutter free as possible. But, there lies the problem—it's harder to find a place for everything in a small space! Louis Interiors can solve that problem with custom banquettes for your kitchen. Banquettes are already great space-savers by fitting up against a wall. And, you can maximize their usefulness by requesting that your item be equipped with a storage bin in the interior. Kitchen storage doesn't have to be limited to kitchen utensils, either. There's no reason you can't store photo albums, craft supplies, or extra books inside your banquette.
Modifications for Moving In
No piece of furniture says family room like a sectional. They provide seating for everyone while drawing each person into the same area to relax together. When you're trying to squeeze into a small space, however, you may feel like a sectional is off the list of options. How are you going to fit it through the hallway? What about getting up the elevator to your apartment? Louis Interiors has just these situations in mind with our custom couches. We can modify your custom furniture to be built in pieces that can be brought in separately and assembled once in your home. That means fewer headaches about getting the furniture in place and more enjoyment from a piece you truly love. There's really no reason to settle for mediocre furniture. Even if you have an oddly shaped area, we'll work with your room to make a custom furniture orientation that works with your setup.
Think Triple Duty
A piece of furniture that can perform two functions is great. But, how about a piece of furniture that can perform three functions? Now that's what you need for sparse living quarters! Consider using an ottoman in the room where you entertain guests or gather the family. When you're enjoying quiet time by yourself, it functions in its traditional role as a foot rest. Like banquettes, the ottoman is also perfect for out-of-sight storage. Additionally, its padded, spacious top makes comfortable seating for extra guests.
Condo, apartment, or tiny house—custom furniture from Louis Interiors is the right fit for sophisticated style. Maximize your home's appearance by getting one-of-a-kind furniture built to your specifications. Small homes are not a hindrance to style. In fact, even if you find yourself in a space that's tinier than you would like, you can take advantage of the small home trend by making your small space a haven for your unique style. When space is sparse, every furniture choice matters. Get exactly what you want with furniture designed to your tastes by Toronto's best custom furniture company.