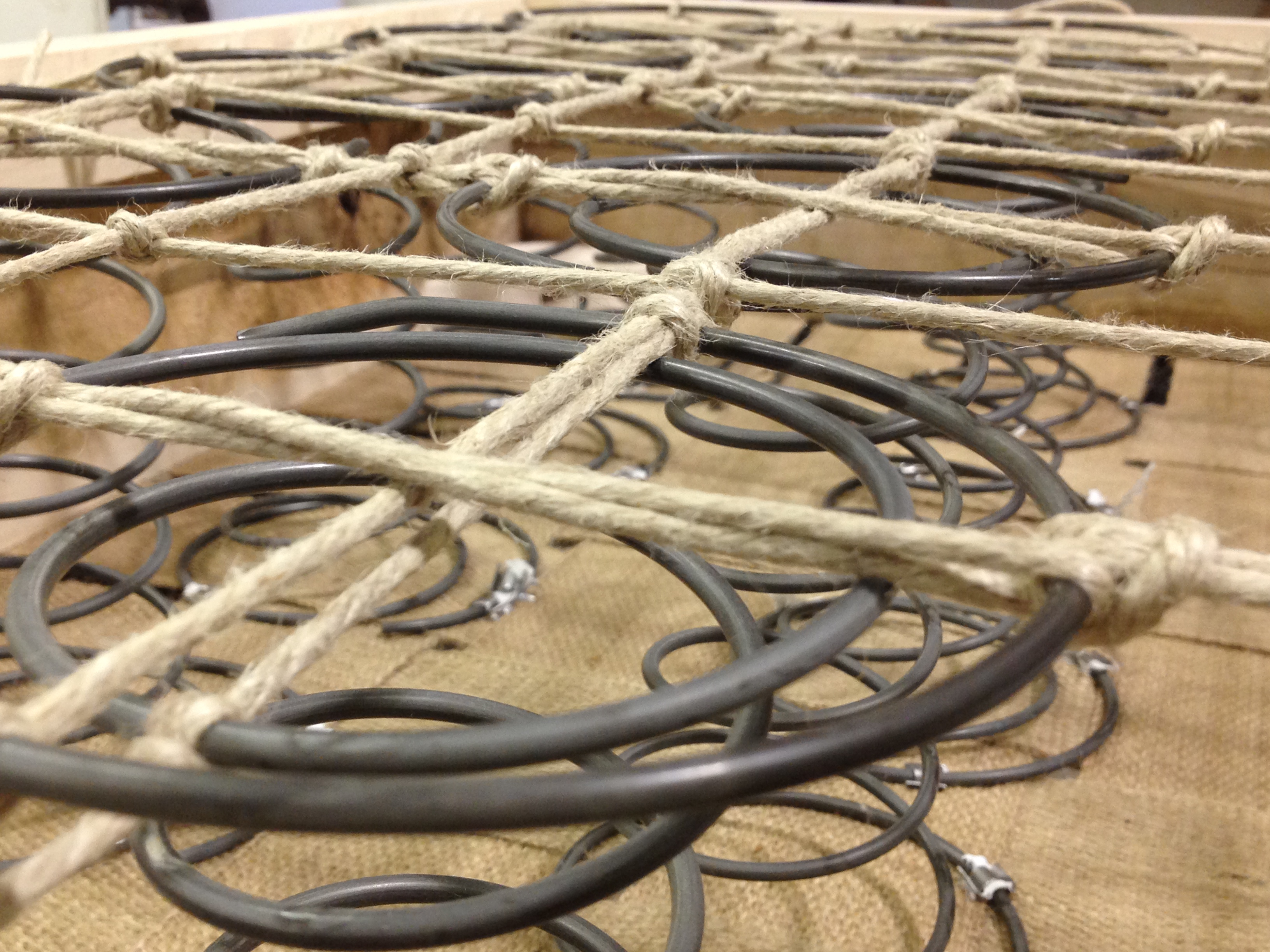 If the frame is the skeleton of a piece of furniture, springs and webbing are the muscles. The decking and springing method give furniture its tautness, its comfort, and its fundamental shape. If they're not right, nothing built on top of them will sit right either.
When discussing quality furniture, the term eight-way hand tied gets thrown around a lot. But what does it mean? And how does it compare to other decking methods?
Eight-Way Hand Tied Springs:
Using eight-way hand tied springs, also known as coil springs is a traditional European method of decking suspension that nearly triples the lifetime of the furniture piece in comparison to conventional suspension techniques. Coil springs are mainly used in sofas and sectionals. The process of eight-way hand tying the springs is time consuming and arduous but the result is a much more comfortable sofa that will last a lifetime.
How it's Made:
Put simply, in the eight-way hand-tied method, a series of coils hourglass shaped metal springs are clipped to a webbing base and each tied, from front to back, side to side, and diagonally, eight times. Tied 8 times by hand – the name explains the process!
These springs create the most stability and durability in the seat because they distribute body weight more evenly than zigzag springs. Tying the springs together in eight different directions ensures the support for the seat maintains the tension required. Eight-way hand tied is a time honored construction method and represents the gold standard in furniture decking.
Watch Out! Drop-in Machine-tied vs Traditional Eight-Way Hand-Tied:
Machine tied springs attempt to simulate the traditional eight way hand tied version but are a pre-assembled, machine-made coils that are dropped into the frame and typically fastened at the corners. They are generally considered inferior in terms of support and comfort they offer.
When buying eight-way hand tied furniture it is important to make sure you are getting the real thing and not the "drop-in" coils.
Other Springs: No-Sag:
No-sag spring, also known as zigzag or sinuous springs, are meant to do exactly what it sounds like – prevent sagging! No-sags are vertical running springs with a "s" zigzag pattern, with horizontally running wire added for reinforcement.
Firm 8 or 9 gauge sinuous springs work best for seats and ottomans. Soft, or 11-gauge, zigzag springs are meant for chair and sofa backs. You need two clips, spaced roughly 2 inches apart, to attach each spring to the frame. The clips have a Teflon finish keeping it quite when you sit.
No-sag springs are the main springing method in chairs and are commonly used in hotel and restaurant furniture, but rarely used in high-end residential furniture.
Eight-way Hand-Tied vs No Sag Springs:
Although 8-way hand tied springs are generally considered the best decking method, no-sag springs have their use as well. 8-way hand tied coil springs are best for custom sofas and sectionals, whereas no sag springs work great for many chairs.
More importantly, a company that takes the time and effort to use authentic 8-way hand-tied springs is a company that is dedicated to an overall high quality level of craftsmanship you are not going to find with a manufacturer who is interested in lowering costs. It means that they will have highly skilled, experienced, and knowledgeable craftspeople working on your furniture, paying careful attention to the welts, tailoring, fabric lining up, and other small details that other companies might overlook or not consider worth the extra time and skill needed to get it just right.
Springing method can make a big difference in the overall comfort level of the finished product. Just like style is an important factor when it comes too picking out your furniture, so too is comfort; and a company that offers high quality springing is a company with skilled craftspeople dedicated to getting it right. And sometimes what counts the most is what's inside.