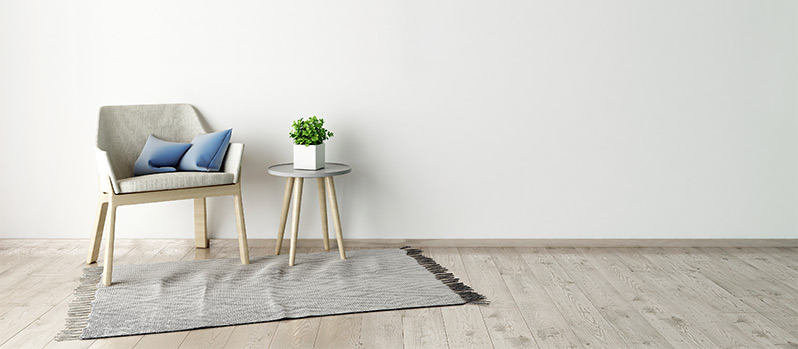 A new colour scheme has popped up in recent years that seems to be taking over the design world, and for good reason. Neutral color palettes have often worked well with almost any aesthetic style because they give a clean background to work with. You can add whatever you want from the starting point of a neutral palette.
But most neutral interior design sticks to the lighter neutral shades without considering other colours that can pair well with many different looks. And that's where the bold neutral palette comes in. It incorporates expanses of black, the darkest neutral. Black is a staple neutral colour for keeping wardrobe selection easy, but it is underutilized in living and work spaces.
Allowing the furniture and accessories to take center stage
One of the simplest ways to incorporate black in a neutral palette is also one of the boldest uses. Before you add furniture and decor to the room, paint one wall black as an accent wall. An all black room would look a bit too dark and depressing. But a black accent wall can look interesting and sophisticated. And it will definitely get people's attention when they enter the room.
Even in rented spaces, you usually have some leeway with wall colour, as long as you return the walls to their original colour if you decide to move out. The good thing about this is that you can then focus on the furniture and accessories. And you've created a chic setting that allows multiple iterations if the furniture is changed later. Because black is a neutral shade that pairs well with many other tones, you can easily keep the colour scheme as you change up other parts of the room or add new pieces. You get the best of a neutral palette without the boredom of monotonous colour.
Rather than making the room look too dark and shadowy, black accents add contrast that can open up a room and make the lighting even more effective. This technique can be used in a variety of rooms–living rooms, kitchens, bedrooms, dining rooms, and offices. It works best in spaces that offer a lot of natural lighting, either through a big window, glass doors, or skylights.
Once you have the general colour scheme set, you can pay more attention to the furniture and other decor you want to put in the room. And with a bold neutral palette, you can go pretty much anywhere from here. You can stick with other neutral pieces and add black accents, like pillows or lamps, to create a cohesive and toned down look. Or you can spice it up with brighter colours for the other decor.
Utilizing custom furniture for just the right style
If you'd like to continue the black accent throughout a room, you can easily find the right upholstery patterns for custom furniture pieces at Louis Interiors. All of our fine furniture is made to order with the exact upholstery you select, and that gives you a wider range of options for incorporating black in chairs, custom couches, or accents. If an accent wall painted black is not for you, you can also get a dramatic effect from one all black piece of furniture, like a black sofa, ottoman, or lounge chair. They will stand out elegantly in an otherwise light room.
Another option to consider when adding black to make a bold palette is having visible wood frames finished in black. The kiln-dried soft maple wood we use at Louis Interiors takes almost any colour well and allows more flexibility with the finished look of a room. The contrast of dark wood with a lighter upholstery makes a sophisticated and sleek statement.
Black furniture for office space
Black furniture can also make a bold statement in office spaces, where large black accent walls may not be the best choice. Many colours can go out of style, but black is a classic shade that always looks sophisticated. Sofa No. 242 is an classy piece that would work well with black upholstery in nearly any office space.
Whether you're putting black to use in the overall palette or just using it as a primary or secondary furniture colour, Louis Interiors can help you design the perfect piece of fine furniture from Toronto. Reach out to the best custom furniture company to get started.