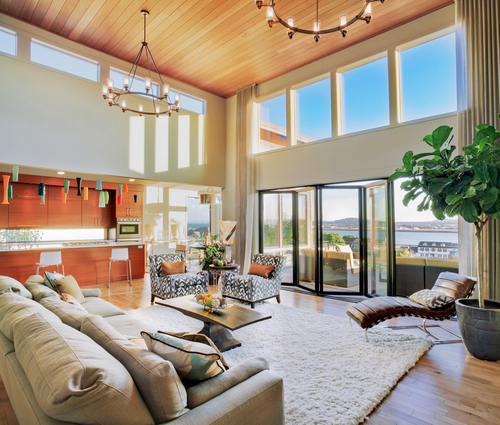 Top Tips for a Balanced and Well-Rounded Room Design
A lot of the time our advice focuses on a particular aspect of interior design, or even a particular piece of furniture. But sometimes you have to take a step back and look at the big picture (even if it's in a small space). So we have gathered up our top tips for a balanced and well-rounded room design.
A large rug under key furniture pieces
Rugs are often an overlooked component to pulling a room together. In fact, many people ignore them all together and don't even use rugs in their spaces. But they truly can make a difference, and that is why you should put thought into selecting rugs. They are more than just a protectant for the other flooring. And before you think you cannot incorporate a rug into a room because it has carpeting, think again. It is absolutely okay to place an area rug over a fully carpeted room. Rugs can be used on any flooring—hard wood, laminate, tile, concrete, low carpeting like Berber, and plush carpeting.
The rug should complement the décor by providing contrast. A minimalist room looks nice with a bold rug choice. And a more eclectic space does well with a neutral or solid coloured rug. When selecting colours and patterns, look for selections that draw from the existing palette for the space you are designing. You can even use rugs as a way to section off areas and create "zones" in an open space.
Armchairs with long legs
If the room feels very small, dark, or visually heavy, you can provide a more airy feel by choosing armchairs with long legs rather than short, chunky chair legs. Ask our designers about our Chair #151 design. It's the perfect way to add the luxury of designer furniture to a room without making the space look visually weighed down. Another good thing about a lighter armchair is it has an ability to multitask in ways a heavier piece cannot. For instance, a light armchair with long legs can double as a comfortable desk chair, saving on the need for additional furniture.
Tiny tables
The tiny trend is everywhere. But have you considered shrinking down the size of the tables you use? Placing a tiny table as a focal point in a room is a totally unexpected change from a large coffee table. And if your client has a small living room, the tiny table will also make it easier for them and their guests to navigate the space without bumping into corners.
Asymmetrical seating pairs
You can have a lot of fun with creating a new type of balance through unbalanced pairings. If the space is large enough for multiple pieces of furniture for seating, you can place a larger sofa or sectional on one side of a coffee table and a smaller love seat or chaise on the other side. The effect has more impact when the two pieces match each other in design and upholstery, so that the dimensions are the noticeable feature providing contrast.
Another way to create asymmetrical yet balanced seating is to place a pair of benches or square ottomans to be used as seating across from an oversized armchair. Place a table between the seating options so people can chat over drinks.
Curved sofa
The curved sofa, like our Sofa #116 design, can actually help to shape the purpose of a room. It is not a sofa you put in a room with a large television as a focal point. Rather, the curved sofa draws people in to look in each other's direction. It instantly creates a conversation pit for your room. That makes curved sofas the perfect designer furniture piece for rooms where you like to entertain guests or spend quality time with your loved ones without the distraction of screens.
The curved shape also pulls a room together, making it feel more cohesive instead of boxed off. When you go with a curved sofa for a room, consider pairing it with other rounded shapes to complete the look. Think circular area rugs and round tables.
Many of these design tips can be utilized together. And you can pull them off in exquisite style with the right furniture. Louis Interiors provides designer furniture from Toronto that you call the shots on. Create your own balanced look today by commissioning a set of custom furniture.