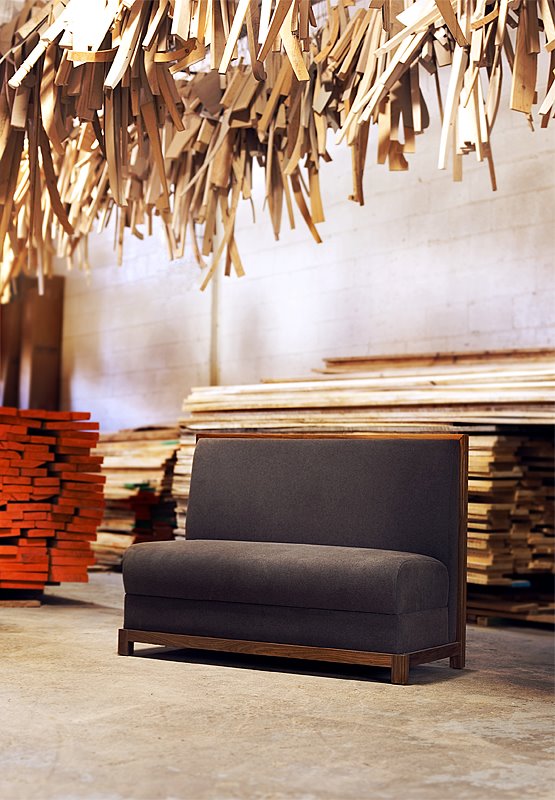 Traditional vs. Modern: Understanding the Two Primary Furniture Styles
One of the first decisions you'll have to make when choosing furniture is whether to go with a traditional or a modern look. It all depends on your personal taste—both styles are popular. In general, modern pieces tend to be minimalist, with sleek, simple lines. When some people hear the term "modern furniture" they imagine artistic pieces that are not practical for everyday use, but that's not true. At Louis Interiors, we specialize in well-made, comfortable furniture to suit either aesthetic. We love the challenge of creating the most unique custom furniture in Toronto.
Traditional
Traditional furniture really refers to any piece that resembles the styles of the 19th century or earlier. Furniture from this time period tends to be made of dark, heavy wood. The furniture is often large and heavy. Traditional style is still used often, especially in homes and offices in historic buildings. Restaurants and hotels, on the other hand, typically stick with a modern look, depending upon the desired mood. The truth is, either style has its place in both personal and business settings.
If you have a large house, restaurant, or hotel, it's easier to accommodate the traditional style, which takes up a lot of visual weight. In smaller spaces, the big, dark furniture can make the area look cramped. Of course, that doesn't mean you can't put traditional furniture in a small space if that's the style you love. The secret is to be choosy about your pieces. One strategically placed item can be a wonderful focal point in smaller rooms. To finish off the décor, choose smaller items for accents, and avoid cluttering the space with too many items.
Traditional luxury furniture pairs wonderfully in a room that contains antiques. That's because the furniture style matches the time period of the other pieces. Of course, you can also boldly mix traditional and modern styles. The only rule when it comes to décor is to make the style represent your personality and suit your needs. Our skilled craftspeople are adept at recreating the traditional look with dark wood stains and high-quality fabrics.
Modern
Modern furniture, on the other hand, refers to furniture styles that came about after the 19th centuries. These pieces tend to utilize lighter wood tones, brighter fabrics, and newer materials, like plastic or metal. Modern furniture embraces the urban aesthetic of smaller spaces and suburban reality of single family homes, and it helps to enhance these spaces by being less visually heavy.
Although modern furniture is lighter and less ornate, that doesn't necessarily mean you want to cram multiple pieces into a single area. The appeal of the modern look is that it doesn't take up too much space, and it provides functional multitasking, such as additional storage. At Louis Interiors, you specify what you want from your furniture every step of the way. We customize the look and functionality of the piece to achieve your desired outcome.
Check out this modern piece of custom furniture that we crafted for A Shine & Co.: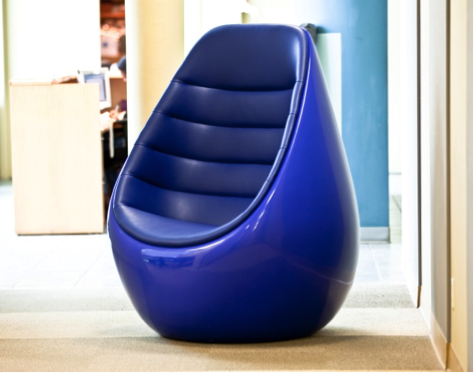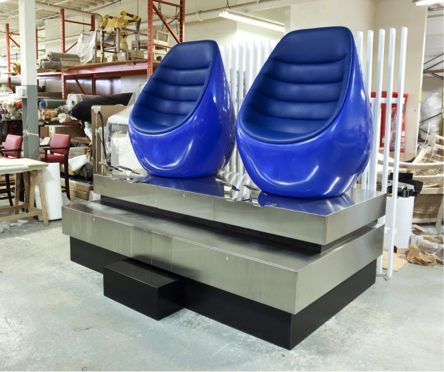 These shoeshine chairs utilize modern materials, bright colours, and simple shapes without ornamentation. You can see that they have a very modern angular design. Our custom shoeshine stand for A Shine & Co. will appear in four airports throughout the US.
Modern design isn't just about being edgy. The base of the shoeshine stand shown above offers custom foot rests for the customer's comfort, as well as practical drawers to store shoeshine equipment. To make sure everything is just right, we utilize 3D design models, which helps make the realization of even the most complex designs possible.
In fact, we use 3D design models for every piece of home, business, or restaurant furniture we manufacture. Whether you choose traditional, modern, or a mixture of both, we include you in the process each step of the way and ensure that you receive the exact item you want. Browse our online catalog today to see our range of styles, including:
Chairs
Couches
Loveseats
Banquettes
Lounges
And more
For every piece of custom furniture that we create, we follow our time-tested process to create something both one-of-a-kind and lasting. We've been using the same handmade techniques for decades. Talk to our friendly staff to get started with your own handcrafted furniture from Toronto's best luxury furniture supplier.