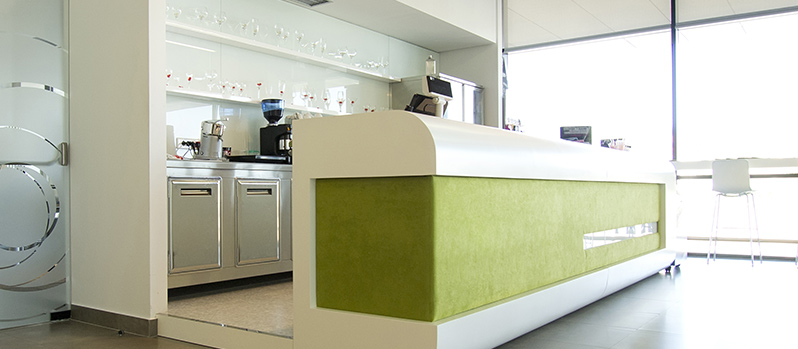 Top Tips for Updating Your Office Kitchen
The kitchen at your workplace is a shared space that needs to be accessible for everyone at the office. Unlike the main work areas, you don't have everyone's individual work spaces in the way when you update the kitchen, which makes it an easy area to get completed in a short amount of time. However, an office kitchen has different considerations from a kitchen at home. The space probably needs to accommodate both food preparation and seating areas for multiple people. So, taking those considerations into account, here are Louis Interiors' top tips for updating your office kitchen.
Consider shelving options
At home, you may prefer cupboards to store away your kitchenware, such as plates and utensils. But at the office, closed cupboards make it difficult for those who share the space to know where to find everything they need. It's not their kitchen, and they didn't organize it, but they'd rather not spend ten minutes of their lunch break trying to locate a spoon.
Think about replacing any cabinetry with open shelves to place shared kitchenware on. That way, when someone needs to find the spare coffee filters and sugar, they can see exactly where it's kept. Open shelves don't have to look cluttered. Just be sure not to accumulate too many items for the number of people using the space by occasionally purging unused dishes.
Open things up
If you own your building and have the option to take down walls around the kitchen, this is a great way to allow for more kitchen furniture and create an airier feel in the whole office. It's also helpful in keeping teams accountable for the state of the kitchen area. However, if you lease, as many business owners do, you may still be able to take down a door to create a more open space. You can always put the door back up if you move locations. Opening up the eating area can make it more inviting for team members to use the space rather than feeling closed in, especially if this is an internal room with no windows.
Get some trendy barstools
If you run a modern office, you'll notice that many businesses are trending toward offices with a bit of personality, unlike the old 'business only' office spaces. Providing employees with a space that nurtures their creativity can help your business succeed by fostering innovation. Consider putting in some trendy, multifunctional furniture, like barstools.
Not only are they a relatively inexpensive update, but they can easily be taken out of the kitchen area and used for impromptu meetings that require a bit of extra seating. Place them along the wall of the kitchen as a place to wait while food is heating in the microwave, or if you have open space under a counter, tuck them away until they're needed. You can also add an island or counter to the middle of the room to create a place that is convenient both for additional standing food preparation and for sitting at barstools to eat. This space saving move means you don't need to have lower tables and you can pull double-duty from all the surfaces in the kitchen space. Not sure whether an island with barstools is a better idea than tables with chairs? Consider how much easier it is to serve office potlucks or hold chili cook-offs from a standing-height counter.
Try the wood trend
For a while, wood trims and natural woodgrains had taken a backseat to painted wood. Indeed, in a lot of office kitchens, you'll find black cabinetry and not a lot of warmth. Although black can be a sophisticated colour, in a closed-off kitchen space it can make the room look really dark and uninviting. But natural wood colours are popular in home and office interior design now.
Rather than looking old-fashioned, natural wood can be used in sleek custom furniture pieces that look quite modern. At Louis Interiors, we make our furniture frames from durable kiln-dried soft maple wood. We embrace exposed wooden pieces on our furniture. Take a look at our Barstool No. 289, for instance.
Opt for a banquette
If you really want to try unconventional seating for your office kitchen, a banquette is a unique option. They're not just for restaurants. A banquette provides the perfect place for teams to eat together and have informal brainstorming sessions.
Custom furniture from Toronto makes it easy to find pieces in the right dimensions and fabrics for your workplace. Chat with us today about your vision for an office kitchen update.