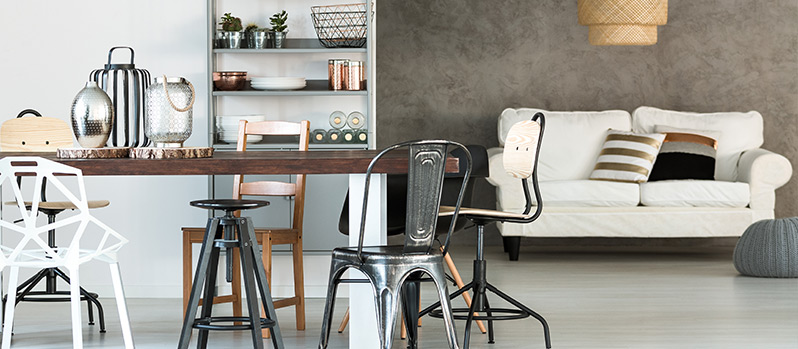 What Furniture Do You Put in a Multifunctional Room?
When you are designing a small space like an apartment or condo, you often need to get the most function possible out of every bit of space available. And one of the easiest ways to achieve that is to have each room serve more than one function. This essentially doubles the living space that can be utilized. The best way to turn a room into a multipurpose space is to find functions that are typically not performed at the same time. For instance, having a kitchen that is also the dining area is a common multifunctional use of the area. That's because eating occurs at separate times from cooking or washing dishes.
But if you get creative, you'll find that many rooms in a house can perform multiple functions. An underutilized dining room can easily become an art room, craft room, sewing room, office, or playroom. You can even take spaces that aren't intended to be rooms and make new use of them. Large walk-in closets can become secluded bedroom alcoves with little more than a bed and clothing storage, freeing the larger area of the room for a different use, such as a home gym. Even small closets can be converted into tucked away homework areas or small offices with a desktop that folds down from the wall.
One of the keys to getting your rooms to perform double or even triple duty is to have the right furniture. That usually means pieces that can move, convert, or be utilized in several ways. Here are some ideas for what furniture to put in a multifunctional room.
Ottomans
Ottomans are a multitasking favorite when it comes to furniture. They can be a footrest, a coffee table, an end table, extra seating, or a storage compartment. Working with Toronto custom furniture makers, like Louis Interiors, allows you to design an ottoman that performs just the right functions for the multipurpose room you are envisioning. If you're making a bedroom double as another type of room, a library or sewing room for instance, an ottoman can be placed at the bedside rather than a more typical nightstand. It's a wonderful place to store yarn and fabric and offers more space than a nightstand drawer. Simply place a simple tray on top to hold a book, phone, or glass of water at night. Remove the tray when accessing storage.
Ottomans also make a good choice for end tables in the living room. If you choose a firm ottoman you can place items on the top. And on hosting occasions, the ottomans become extra seating for guests.
Loveseats
When a residence is short on space, you can save a little room by placing a loveseat in the living room rather than a full-size sofa. It provides a similar visual effect but can allow you to take advantage of the saved space. Taking advantage of this decorating technique can also allow you to convert a small front room or alcove into a living room space and free up a larger room for a more personalized use. Custom made furniture can be sized to just the right dimensions for the area your clients choose.
And even if you decide to keep the living room for its intended use, choosing a loveseat can save enough space to divide the space into two functional rooms. Placed against a long wall, a loveseat takes up minimal space for couples or single individuals who don't need a full-size sofa. You're then free to turn the other half of the living room into a pet area or art studio.
Daybeds
Sleeper sofas are a traditional option for making a living room double as a guest room. But daybeds can be a classier option. A daybed with pillows along the back works perfectly as a sofa during the day. And at night, your guest can sleep on a regular mattress rather than an uncomfortable foldout mattress on a sleeper sofa. And the living room isn't the only place a daybed can increase usable space. If your client prefers a regular couch, or they don't want guests in an area that gets a lot of foot traffic in the morning, you can place a daybed in a study or office.
With these tips, a small home can feel comfortable and luxurious. Talk to the best Toronto custom furniture makers to get the right furniture for your multifunctional room.