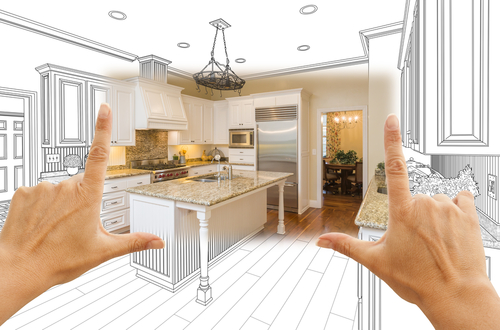 What Interior Designers Are Doing in Custom Kitchens
If there's one room in your client's home that truly needs to be versatile, it is the kitchen. The kitchen is a place to prepare food and cook, prep for entertaining, sometimes eat meals if they don't use a separate dining room, and sit and socialize. Many people also use the kitchen for storage and cleaning supplies. And making a kitchen fit all those uses requires well thought out design. The kitchen may very well be the most important room to put your design budget into. If you're looking for new ways to amaze your clients with fantastic kitchen design, we'd like to offer these tips for what interior designers are doing in custom kitchens.
Going commercial grade
When many interior designers ask their clients what they want in a kitchen, their clients respond that they want to be able to prepare fabulous meals in it. And that is why some designers are switching to commercial grade furniture and other items in their residential kitchen design. Fortunately for our interior design clients, commercial or residential, we construct all of our furniture using the same high-quality techniques. That means the kitchen furniture you buy from Louis Interiors for your residential clients is just as sturdy and long lasting as the custom furniture we provide for our commercial clients.
Mixing wood tones
Wood is an especially popular material for kitchen furniture and design. The wood and white kitchen, for instance, is still immensely popular. But what some people forget is that you do not always have to make every furniture item match when it comes to wood tones. You can create many lovely aesthetics by mixing it up and having the wood accents in your kitchen contrast with or subtly diverge from your kitchen table, countertop, or chairs.
Dining chairs are one of our specialties at Louis Interiors, and our beautifully crafted wooden chair frames can be finished in many natural-inspired wood tones. And because we use the same kiln-dried soft maple wood for all our wood furniture, you can count on the construction quality being the same regardless of the look you choose for your chairs. Take a look at the difference in finish on our Dining Chair No. 305 versus Dining Chair No. 190.
Staying loyal to barstools
Barstools are a staple piece for well-designed kitchens. If the kitchen has an island or counter area, barstools provide extra seating that can easily be tucked away beneath the counter or against a wall. And they also make a perfect perch for breakfast. Louis Interiors provides barstools made to yours and your client's specifications. Feel free to share our catalogue designs with your clients for inspiration, like our Barstool No. 303 or Barstool No. 122. Each of our barstool designs can be customized to suit your clients colour, décor, and aesthetic tastes. Or you can come up with your own entirely unique barstool design and provide us with the details needed to craft your client's perfect piece of custom furniture.
Blending form and function
You don't want too much going on in a kitchen. After all, your clients will need room to move around and maneuver cookware and dishes. Sometimes minimalism works well in a kitchen in part because it keeps this room open and comfortable. Using fewer extra pieces means it is less likely for people to bump into or knock over something while they move around the space. A kitchen is different from a living room, where people are more likely to be sitting still (depending upon how they use the space).
And that also means that furniture pieces should keep in mind the need for space to move in. If the kitchen is small, go for less dense tables and chairs that add less bulk to the room. If your client has a large kitchen, you may have a little more flexibility in using heavier pieces, but you still want to be mindful of providing plenty of empty space. Otherwise you risk making the kitchen look and feel cramped, even if it is spacious.
Adding a few custom furniture pieces to your client's new kitchen can make all the difference in the final appearance and functionality of the room. Keep following Louis Interiors' blog for more design and luxury furniture ideas.