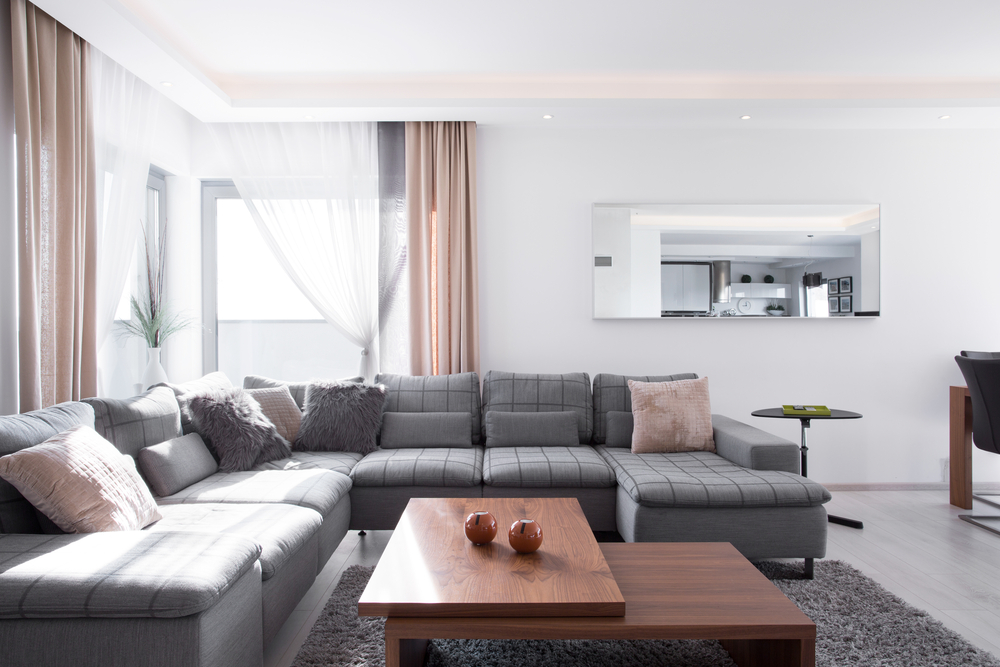 Why Custom Made Furniture Is Perfect for Small Spaces
Whether the place you are designing is an apartment, a condo, or a tiny house, you don't have to lose the appeal of fine furniture in a small space. You can utilize custom made furniture to make the most of each nook and cranny. We're bringing together some of the best small space ideas for furniture that allows room to breathe. Here's why custom made furniture is perfect for small spaces.
The benefits of light frames
At Louis Interiors, we design a variety of furniture types, including many styles of sofas and chairs. You are in control with the design, and we are happy to create custom made furniture to your specifications. That being said, we can help you find design styles that work by showing you some of our own designs. For small spaces, we really love light, airy furniture that offers room for innovative storage. For example, our Sofa No. 242 has plenty of open space beneath it where you could place decorative baskets that coordinate with the couch and your room. This allows you to have easily accessible storage that doesn't look cluttered. You can keep your magazines or extra throw blankets under there.
And this works the same for lounge chairs, either in your living room or as a beautiful bedroom accent piece. Lounge Chair No. 204 is a versatile piece that works well in bedrooms or gathering spaces and offers plenty of room for a decorative storage basket between the legs of the chair. You could even put this chair or a similar one, such as Lounge Chair No. 160, in an entryway or foyer and covertly place things like extra gloves in a basket or box beneath it. You would be amazed how much space you can save by utilizing attractive storage baskets. No one will see clutter, just beautiful items. And with the right custom made furniture, you can keep those baskets out of the way.
Look for multifunctional fine furniture
Remember that fine furniture does not have to be stuffy and traditional. At Louis Interiors we use traditional furniture crafting techniques, but we utilize those techniques to create a range of furniture styles, from more classic pieces to sleeker modern designs. And unlike heavy, unmovable pieces from the past, much of our furniture can be multifunctional. Furniture that fills multiple roles is absolutely essential for maximizing a small space. If you use a piece of furniture that doubles or even triples as another item, you don't have to take up space with something else (and your client doesn't have to purchase an additional piece).
Some of our favorite multitaskers are benches and dining chairs. We craft several different styles of padded benches, like Bench No. 285 and Bench No. 276, and they really are quite versatile. They make wonderful additional seating in nearly any room—bedrooms, bathrooms, kitchens, dining rooms, and of course living rooms. Benches can also double as coffee tables or side tables by placing a tray on top for sitting items on. And the padded surface makes them a great place for your clients and their guests to prop up their feet when sitting on the sofa or loveseat. Ask us about our bench design that offers storage space inside for even more versatility.
Now let's talk about dining chairs. If you're going to spend money on high-quality dining chairs, you should get the most use out of them you can. Rather than owning a lot of cheap furniture, why not save space and make use of fine furniture in multiple ways? Most people only sit at their dining tables once or twice per day at most. When your clients are not eating, those chairs can easily be moved to other areas of the house as a place to sit and take off shoes in the entryway, extra seating for guests, or as an aesthetically pleasing spot to place folded up throw blankets. It really helps in their versatility when you select chairs with comfortable padding, like Dining Chair No. 314 or Dining Chair No. 192.
While we're talking about versatility, our Ottoman No. 286 is designed with a lower shelf where you can keep small items and reading materials. Use it for seating or even as a side table.
We'd love to hear your ideas for making the most of fine furniture in small spaces. Reach out to our custom made furniture team in Toronto today.