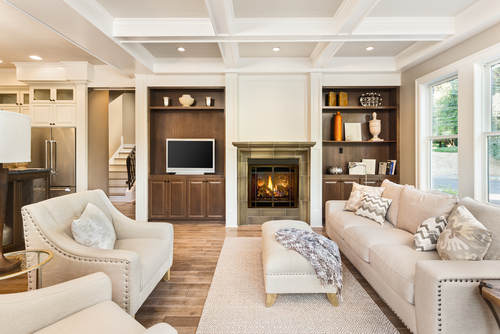 Why Small Companies Are Better at Customization
Everyone wants to have their own unique possessions. They want to put their stamp on the things that make up their lives. And e-commerce has tried to fulfill that need with companies setting up websites that allow customers to customize the things they purchase. It's called mass customization.
But the options available on a customizable e-commerce website are still fairly limited by both the necessity of giving specific options and the need to list prices the options fall under. With a smaller company, however, customers are able to work with the company to come up with a truly unique end product. Here's why small companies are better at customization.
You can talk to the people crafting your product.
Websites are wonderful tools, but sometimes the best way to communicate exactly what you want quickly is to talk to a person face-to-face. At Louis Interiors, you can actually talk to the people designing and crafting your custom made furniture, and you can ask questions if you need to without waiting for an email response. The availability of the people at a small company makes communication much easier as you relay exactly what you want in your custom piece. When working with large companies that implement mass customization, it is unlikely you will be able to talk face-to-face with someone about your order. It can be frustrating not knowing when your questions will be answered. Also, there is something very satisfying about talking to the people who will be making your order.
Pricing is more flexible.
When you are working with a small company to create your own unique end product, you have more control over the final cost. That's because you can select the materials. In fact, we allow our clients to look for upholstery materials at other suppliers if they prefer, meaning you don't even have to purchase all your custom made furniture materials from us. That allows you to seek out upholstery that fits both your taste and your price range. Because you specify every aspect of design, you have much more control over the final price range than when you order from pre-selected design options.
You can look at the materials in person.
Here's another advantage to working with a small, local company. You can actually see the materials in person. Websites have gotten better about showing mostly accurate representations of products. But materials still aren't going to look exactly the same on a screen as they will when you're actually holding them in your hands and seeing them. In part, that is because different screens have different resolutions, colour representations, and sizes.
And aside from just making sure the colours match up the way you want them to, you can feel the fabric textures in your own hands when you visit a company in person. You can check the thickness and the quality. You can truly compare your customization options.
You are not limited by pre-selected options.
When the only tool you have for designing a "custom" product is a website with drop-downs or buttons to select options from, you can't really make all the customizations you want. Rather than a true custom product, you are just getting a wider selection of already available products.
In contrast, when you work with a small company like Louis Interiors, you can visit our facilities, meet our people, and inspect all of our materials for quality and appearance. You can even add your own materials, and we will work them into the finished furniture piece. You are a part of the actual design process, and you are not limited by pre-made designs that we lay out for you. You can come in with your own photo, drawing, or ideas, and we will help you bring your custom made furniture to life.
Put simply, true customization occurs when you are working with the people who craft your product, not just clicking through selections on a website. When you select custom made furniture from Louis Interiors, you are free to express yourself fully in the way you design your interior spaces. Talk to our team today about designing your own unique furniture piece or set.