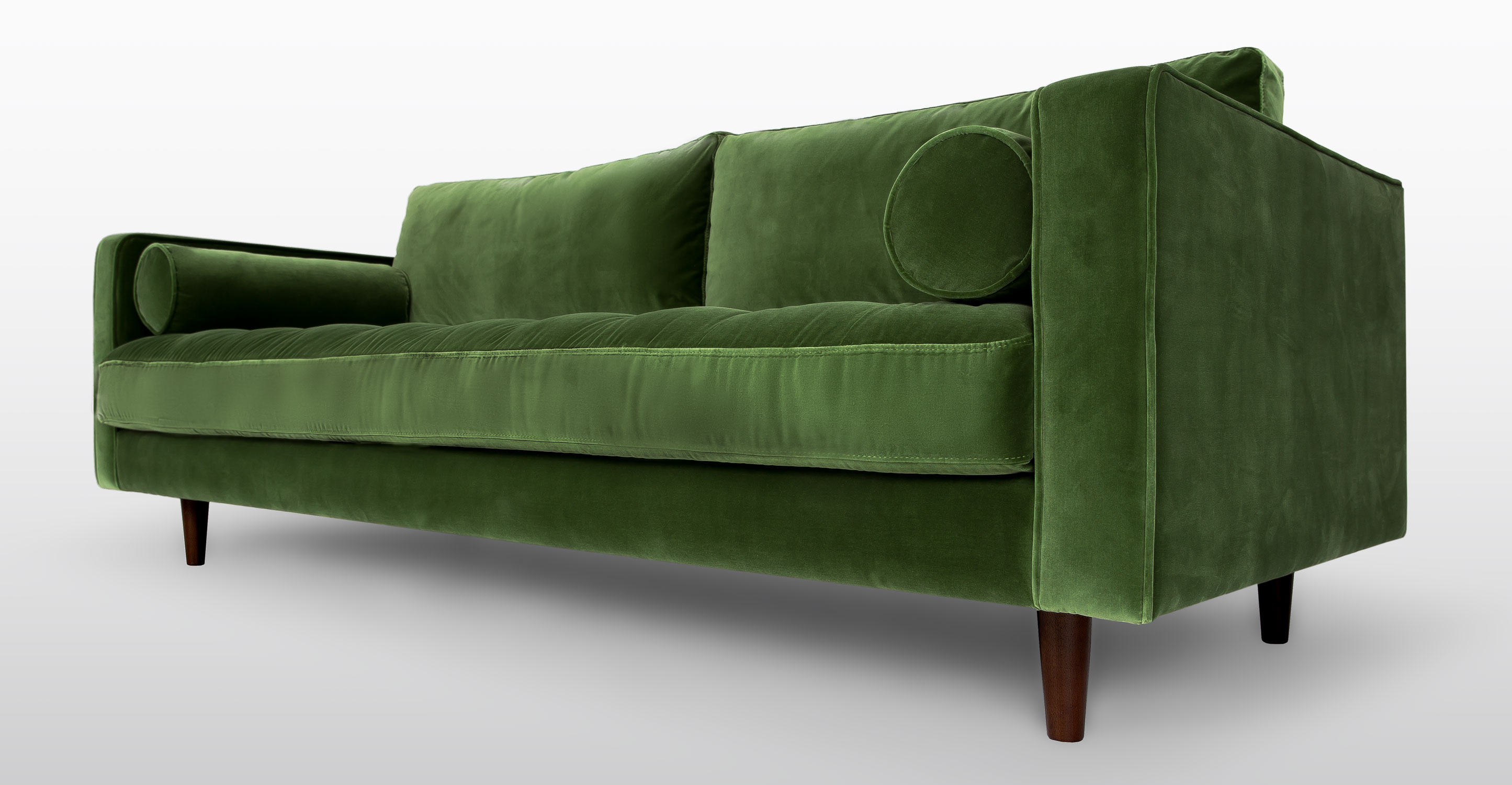 Why You Should Consider a Green Couch for Your Office
At Louis Interiors we are designers as well as custom furniture makers in Toronto, and that means we have to stay on top of trends that work. Our design process very much includes our clients in the concepts that we carry out. But we have plenty of suggestions to help out along the way. And we have definitely put in the time helping to design a huge number of custom couches for use in homes, apartments, retail stores, and offices. Here's our take on why you should consider a green couch for your office.
The green colour trend
Green is a top colour trend for furniture right now. But that's not the only reason we suggest it. A trend means nothing if it doesn't work in a space. Offices, however, are the perfect place to take advantage of the green trend going on at this time. For one thing, office space tends to be more difficult to get natural lighting in than a residence. And multiple studies have shown that adding green plant life to an office can help to boost employee mood when they cannot get outside during the day or get access to a lot of natural lighting.
What does that have to do with your office seating? You can create the effect of a natural setting by incorporating more natural colours into your office decor. In rooms where potted plants aren't convenient, a vibrant green couch may have a similar visual effect, energizing employees and lifting their spirits, as opposed to a neutral grey couch. If you're worried that green won't look professional or fit your company's persona, don't worry. Green comes in a variety of shades, and you can even use it on a custom couch with sleek design and a visible metal frame to keep your office matching an ultra-modern tech vibe. Nature and technology do not have to be opposed to each other in design.
Upholstery options for your office
For some reason velvet seems to be the fabric that comes to mind most when we talk about green custom couches. And it's true that you can create a modern-looking piece with green velvet upholstery. But that is not your only upholstery option for a green couch in an office setting. In fact, when we say green, it doesn't even have to be a solid green piece of furniture. Green works well in many patterns, and it can simply be used as a predominant colour rather than the only colour. In fact, placing a couch with patterned upholstery in certain spaces can create a less jarring look in some cases.
Regardless of whether you are set on solid green or thinking about a pattern, green can work with nearly any type of upholstery. You just have to get the right shade of green for what you are working with. And green can come in many different shades, ranging from the yellow spectrum to shades closer to blue. If you like the sophisticated look of leather upholstery, a subtle shade of green, like olive or deep hunter green, may be just the thing to keep it professional while still adding a bit of personality to the space. For other fabrics you can try heathered green, that is, it incorporates shades of grey.
And whether you prefer leather, velvet, tweed, or any other upholstery fabric, you can always choose to go with a bold option like a vibrant emerald green. This is perfect for workplaces trying to attract Millennial employees.
Where to put the office couch?
If you're looking to replace an old couch, then maybe you already know exactly where the piece will go. But if you don't currently have a couch in your office space, you should know that they make excellent places for employees to discuss ideas in a more relaxed setting. It allows your teams to get away from their desks and continue the conversation face-to-face, even when a formal idea generating meeting hasn't been called. By creating multiple work areas, you can increase your employees' creativity and productivity.
And it's okay if they just need a place to take a break and chat with co-workers. It's a great way to build team cohesion. We suggest putting the couch in an open area that invites people from various teams to take advantage of it.
Get more office design advice from the Toronto custom furniture makers with design experience.