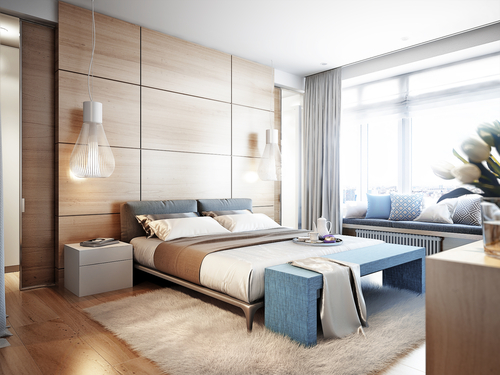 Customizing the Alcove Bedroom Trend
Alcove bedrooms have been called the "architectural womb", and they are definitely cozy spaces. But they're not just found in studio apartments. These tucked away sleeping quarters are popular in homes of all sizes, making a designated spot for sleeping while opening up more living space in the home. You can't deny that this design move opens up a lot more space for moving around and doing other activities. But what about the alcove itself? Interior design clients are going to want to feel content and comfortable where they sleep. So let's talk about big ideas for tiny nooks. Here are some thoughts on customizing the alcove bedroom trend.
Considering dimensions
When you talk alcove bedrooms, you first thought may be, isn't the bed going to be really small? But you have to consider that the whole point of an alcove is that the bed takes up the whole space. So you really just need to measure and make sure that a mattress and minimal frame can fit into the space devoted to the alcove.
There are two ways alcoves are typically done. The first is to build in an alcove where one did not previously exist. And the other is to utilize existing structures as a bedroom alcove. Window box areas are easy places to create an alcove with a few wall additions. But alcove bedrooms have also been built into spaces that previously functioned as closets. Especially if a client has a walk-in closet that is not being fully utilized, this can make a great sleep space.
The main consideration about using a previous closet as a bedroom alcove is that there will probably not be a window in the space to allow natural light. For many, this won't be an issue since they will primarily only spend sleeping time there. In fact, this can be a positive feature because morning light or even street lights won't disturb sleep. It also creates a quieter space where noises from outdoors and other areas of the living space aren't as noticeable.
While we're talking dimensions, let's consider the framework of the bed. You may need pieces of custom made furniture in order to appropriately fill the space in the alcove. Ideally, the bed frame will take up all the space and not leave a gap where personal items can fall through and get lost. That means measurements will be even more important than for a custom bed frame that will be out in the open in a room.
Fortunately, our custom furniture from Toronto can be built in any dimensions you need, even those that are unusual. And while you're thinking about dimensions, don't think you have to keep the alcove minimal. Your clients can absolutely have the comfort of a headboard in their bedroom alcove. We highly suggest using a custom headboard that attaches to the wall rather than to the bed frame itself. By having a headboard attached to the wall, you save space in the tiny area and ensure a perfect fit. Also, it's unlikely that the headboard will need to be taken down any time soon because the space is designed for the bed to be positioned one specific way only.
Making the space feel like a room
Now, a bed hidden in a closet doesn't exactly sound appealing to most people. Even though the idea is to maximize other space and use the bedroom alcove only for sleeping, it's likely that your clients will want something to customize and personalize the nook. Easy ways to do this are with built-in shelving or simple wall shelves where books or small items can be placed. Or you can have the bed frame designed with book shelves underneath.
The alcove can also be as exposed or as tucked away as desired. Curtains or closet-style doors can shut off the space for privacy. Or the alcove can be left open to become part of the overall room's design.
Now that the bed is out of the way, what do you do with the rest of the room? Your clients can use the extra bedroom space as an office, craft area, or art studio. It's no longer devoted to sleeping. Follow the blog at Louis Interiors for more small space design ideas and custom furniture solutions.