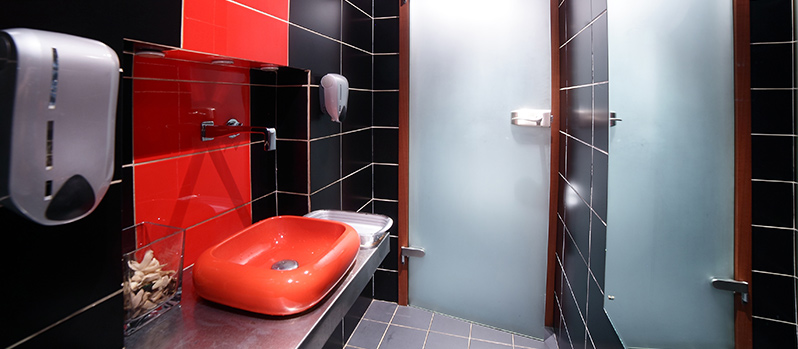 Impress Guests with a Standout Restaurant Restroom
Restrooms may not be the first place we think of when it comes to restaurant furniture in Toronto. After all, the restroom isn't supposed to be a part of the dining experience, is it? There are some really impressive restaurant restrooms that could make you change your mind about that. But even if you don't plan to have a unique bathroom in your establishment, you can still impress guests and improve their overall experience by taking the time to think about how the restrooms are set up.
The truth is that a restroom visit will be a part of the experience at your restaurant. So the theme and quality should extend to this tucked away area. If you've ever visited a business with a public restroom that is not well-maintained, you know exactly how much guests can judge a place based on a negative bathroom experience. That being said, you don't have to do the bare minimum. You can make their restroom visit pleasant and give them a reason to remark on the decor when they get back to their table. Take a look at our suggestions.
Add colour and new life with rugs
Maybe you don't have the time or budget to update the floor, walls, and fixtures in your restrooms. But you can quickly and easily add colour to the space, making it look more appealing with a bright area rug or runner. This can also be a good way to prevent floors from getting slippery from guests accidentally dripping water off their hands. And if your floors are waiting for an update, the rug can cover up blemishes like cracks or stains.
Bring character to the space with wall art
Wall art is an especially fun way to spruce up the restrooms. That's because you can select any theme or type of art you want. You can make it match the decor in the rest of the establishment, or you can come up with a different yet complementary theme for each restroom.
Framed pieces will be protected from moisture. And you can easily change out wall art if you like. It's a great way to show off the personality of your business or the local area.
Bring in the restaurant chairs
Restaurant chairs are not just for the dining and waiting areas. If your restrooms have a small waiting area outside, such as for single-person restrooms, or if you have large restrooms with an interior lounge, chairs provide a place for guests to wait comfortably. And it's not just about function. Selecting chairs with an upholstery colour that matches the rest of your decor can add to the visual effect of your entire aesthetic. It makes your guests' experiences consistent across different areas.
Another option for large restrooms is to place a couple of vanities in the restroom, complete with chairs where guests can touch up their makeup or mustache. This allows you to free up space for guests to wash their hands while others are tidying up. They will appreciate the consideration.
Place benches along a wall
Speaking of adding furniture to the restrooms, a sturdy bench works just as well as a set of chairs, and it may help you save space if the area you are working with is a bit smaller or doesn't have much floor space. For single-person restrooms, a bench fits nicely along the wall outside your restroom area. And if you get your bench made with underseat storage, it's also a convenient place to store extra tissues and paper.
Consider other restaurant furniture possibilities
Depending upon the size and arrangement of the restrooms in your establishment, you can get creative with furniture in many different ways. Barstools and ottomans are alternatives for chairs and benches. And if you have a separate restroom lounge area available, loveseats or chaises provide an elegant touch to make the place feel less utilitarian and more like part of a relaxing dining out experience.
Even if some of these ideas won't work in the space available in your restrooms, we hope it gave you some ideas for how you can make the area more impressive. No detail is too small in creating a great atmosphere for your guests. Find the best restaurant furniture in Toronto at Louis Interiors.