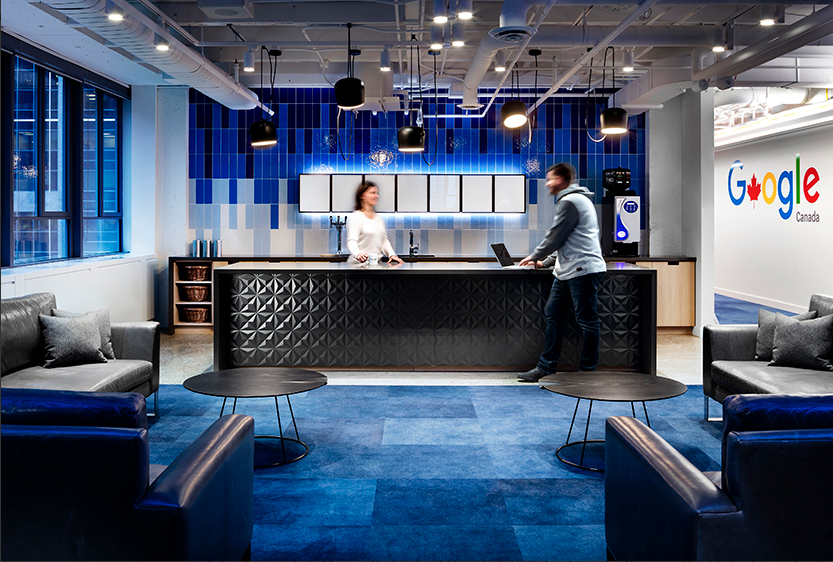 Louis Interiors Thanks ARIDO Award of Excellence Winners
ARIDO is the Association of Registered Interior Designers of Ontario. As our clients already know, we work on a myriad of custom furniture pieces for interior design projects. And we are proud to have been a part of a design project that has won the ARIDO Award of Excellence for 2016. The award-winning design project is entitled "Google Waterloo Phase 1". Designers involved in the winning project include Deanna Hayko, Anthony Orasi, Jackie Prawecki, Kristin Maxwell, David Zhou, Jenny Noh, Douglas Birkenshaw, Mike Taylor, and Pete Kitchen. Congratulations to the winners!
ARIDO Award of Excellence
ARIDO is the only association for professional interior designers in Ontario, and they have been awarding registered members for excellence, originality, and innovation in design since 1982. The Award of Excellence is highly regarded by interior designers. In order to win one of the ARIDO Awards of Excellence, a project must score between 90 and 100 percent on existing design elements, budget and project objectives, strategies employed, overall creativity, examples of project results, and sustainability and collaborative elements. That means the interior designers involved in winning projects must demonstrate a level of skill that rises well above the typical design project in all these aspects.
The awards also help to raise public awareness about the interior design community, a goal that Louis Interiors is fully behind. We continue to participate in community service that forwards furniture manufacturing and interior design in Ontario, and we could not be happier to have taken part in such a prestigious project that shows the Ontario community and the greater furniture and design communities what is truly possible when quality craftsmanship and well-planned innovative design comes together.
In fact, we encourage you to share this article with anyone you know who endeavors to be a part of quality furniture manufacturing or unique interior design. They may just push themselves to become a registered ARIDO member and continue in the tradition of creating well-crafted interior spaces that make work, home, and public spaces more uplifting.
What is Google Waterloo Phase 1?
How does Google Waterloo Phase 1 meet these lofty design goals? First, let's take a look at the work culture the designers started with. And then you will see why the Louis Interiors team was excited to participate.
Google has long been known for requesting innovation in their work environment. Their office space is a far cry from the typical cubicle farm. They have been known for incorporating cafes and chic eating areas to nourish their employees. And they look to their office design to be more than simply efficient. They are one of the few office spaces actually building an aesthetic for their employees. You'll find plenty of sunny areas and comfortable seating arrangements, including Broadway-themed conference rooms with velvet drapes and discussion areas that look like vintage subway cars. Google is a leader in office design and employee satisfaction, including an area where workers can play with Legos, and even allowing dogs to come to work with their owners.
And behind the scenes of all their innovative workspace improvements have been talented interior designers. Google Waterloo Phase 1 brings out all the workplace values that Google has emphasized in the past—work, rest, food, and fun. The design helps the company to bring about a balanced work life that helps employees to feel valued, productive, and comfortable. The Phase 1 is specifically for new engineers coming into the company. And the project involved a total overhaul of the building, which needed many structural improvements at the outset. After the architectural processes were complete, the interior received full interior design, graphic design, and furniture services.
Thanks again to the ARIDO Award of Excellence winners for allowing Louis Interiors to participate in this amazing project! We look forward to working on additional innovative interior design projects in the future.