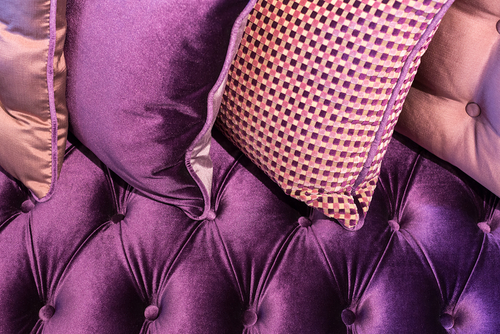 Modern Design with Classic Velvet
Velvet is a luxurious upholstery fabric that takes any room up a notch. It works in living rooms, bedrooms, entryways, and home offices. It can even be used for lobbies in professional office spaces. Think of the impression beautiful velvet chairs would make on clients! And no discussion of interior design with Toronto luxury furniture would be complete without talking about how to fit velvet into your projects. Don't worry. It's not as fussy as you think. Velvet can look modern and isn't all that difficult to take care of. Let us show you how you can incorporate classic velvet into modern design.
Luxury without a heavy price tag
Velvet furniture pieces come in a range of prices. And you can get the plush look without overspending on your client's budget. We know how hard it is when you have set limits to work within and you really love a piece. That's when the hard decision making comes in.
Fortunately, velvet comes in affordable and easy to care for synthetic weave that still provides the traditional look of velvet luxury furniture. And it feels wonderful to the touch. As with any furniture option, price depends on a variety of factors that go into the piece. Velvet furniture is a surefire way to add texture to any space. And that means it fits just as easily into a minimalist design as it does in a more decadent interior.
A solid coloured velvet upholstery can provide texture that breaks up the monotony of a minimalist space without overwhelming the gaze or taking away from the aesthetic of less. If your client is worried about a minimalist space looking bland, velvet is a smart choice for emphasizing luxury rather than scarcity.
Making it modern
But how do you take a fabric that is associated with formal, stuffy interiors and make it look in place in a more modern, sleeker space? It's easy if you get the right furniture design. What you need is furniture made with clean lines that give a streamlined look. Or you can go with smooth shapes and armless silhouettes, like Louis Interiors Lounge Chair No. 231. You don't have to be scared of classic looking pieces in a modern space, either. With the right placement, a classic velvet chair looks right at home.
Another way to update velvet is to use it on a piece where it wouldn't be expected. Many of our custom couches look fabulous in velvet. Now, velvet couches are nothing new, but you're less likely to find a velvet sectional. It can be a fun way to give a comfy family room a bit of class. Our Sectional No. 254 has straight, geometric lines with a sharp L-shape that provides all the benefits of a sectional, and it looks fantastic in velvet upholstery.
Whatever furniture style suits your needs, you can give the piece an edge by choosing a bold color or make the velvet quieter with a soft neutral, like grey. Have you considered combining velvet with another material? Another way to update its style is to get another upholstery fabric, along with nail head edging, added to part of a chair back as an accent.
But isn't velvet hard to care for?
Velvet upholstery has a reputation for being prone to stains and worn spots. The truth, however, is that if you know the right steps for keeping your furniture clean, you can maintain the beautiful look of velvet for many years. Once you know the right techniques, you can ease your clients' minds about the difficulty of caring for velvet furniture. Here's what they need to do.
First, never use water to clean velvet. It will just soak right into the fibers and affect their composition, eventually changing the texture of the upholstery. Prevention is the number one method of keeping velvet looking nice, so if your client has a pet, you should suggest that they institute a rule against getting the dog, cat, or bunny getting on the velvet furniture. They can simply give their furry, drooling companion a nice comfy bed of their own in the room with the luxury furniture.
Next, any dust, dirt, or fur that gets on the upholstery can easily be taken care of with a vacuum cleaner attachment. This is a gentle and easy way to keep your furniture clean on a regular basis. Running the attachment back and forth across the velvet will also pick up any fuzz that may have formed on the surface.
For spills on velvet furniture, simply place an absorbent, colourfast cloth or a paper towel on top of the wet spot, and let it absorb into the cloth. Do not rub or wipe at it. Dabbing only pushes the liquid deeper into the fibers, making the stain and damage worse. Once as much liquid as possible is absorbed, allow the fabric to air dry. If a stain remains, try this handy tip on safely treating velvet stains.
If you're looking for a velvet piece that doesn't make the room look old-fashioned and stuffy, reach out to our custom couches and furniture team at Louis Interiors.