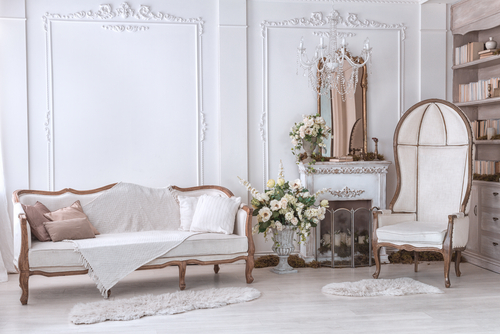 The Value of Customization in Interior Design
Have you ever been looking for the perfect piece to a particular design and settled on something else that didn't quite hit the mark, just so you could finish? Sometimes, that's necessary, especially when you're working on a specific timeline. But when you have the opportunity to plan ahead, you can get custom made furniture to suit the project's best result.
Louis Interiors in Toronto crafts custom furniture that is found in a variety of settings, so no matter who your clients are, we can help you give them the ultimate design experience. This article covers various interior design client types, and how you can improve their experience by integrating handcrafted fine furniture into their projects.
Restaurant owners
At first glance, people may think custom furniture is unnecessary for restaurants. They all need fairly standard pieces, right? But as a designer, you understand that what sets any restaurant apart from others with similar menus is the atmosphere. And atmosphere must be shaped.
Restaurant owners should not want their chairs and tables to look like everyone else's. Sure, you could put in some standard looking furniture and focus on things like artwork and potted plants, but that ignores a whole section of restaurant design that can make a big difference in guest experience. After all, restaurant goers spend the majority of their time sitting on the chairs and utilizing the tabletops. They're certain to notice the extra effort.
Here's what we suggest. Look for barstools, restaurant chairs, and banquettes that fit together. They can all match a colour scheme, or you can find ways to use different colours that complement each other. Guests prefer a few different seating options, and coming up with a unified look is easy with custom furniture.
Hotel owners and managers
Hotels, obviously, need different types of furniture from restaurants. Again though, the end result is about guest experience. Hotels offer designers several different areas to shine.
The front desk and lobby area is one place that should never be neglected. A hotel lobby is the first thing guests see upon entering the establishment. A lot of the design will depend upon the size of the particular lobby. It's apparent, though, that creating a unique experience rather than a standard and unimpressionable sight is of benefit to hotel design clients.
Lounge chairs, couches, and loveseats are all excellent choices for the lobby. Sometimes, guests need to wait. Consider, for instance, if multiple people are checking in together. Providing seating allows the additional guests a comfortable place to wait if only one person needs to take care of check-in.
The hotel rooms, of course, are another area that deserves attention to detail. Custom bed frames and headboards are always a great choice because the bed is the first thing most guests check out. But don't neglect other pieces just because the bed tends to be the focal point of a hotel room. Crafting the whole experience with comfortable seating options in pleasant fabric options shows that a hotel cares about its guest experience. Custom furniture also means custom fabric options for every piece–no need to settle on colours or patterns.
Retail store owners and managers
Retail stores may not be a place typically associated with custom furniture, but all kinds of commercial clients are looking for ways to stand out from others in their niche. If you've ever visited an IKEA location, then you know about going above and beyond what is necessary to sell items. They offer a children's play area and full menu cafeteria in their stores.
Now, you don't have to suggest to your retail clients that they do all that. But they can certainly stand out as a superior shopping experience by adding a few luxuries and conveniences for their customers. And that starts with the right kinds of furniture.
What retail store owners need to know is that forcing customers to sit on bland, uncomfortable benches outside of dressing rooms, or worse, offering no seating near dressing rooms, discourages groups of shoppers from staying long. But they want shoppers to stay and peruse the items. They want them to try things on–if they sell clothing.
Even if your client doesn't sell clothing, offering shoppers a comfortable, cushioned bench or ottomans to stop and sit on encourages them to extend their shopping trip and increases the chance that they will make a purchase.
Custom made furniture clearly enhances commercial clients' interior design objectives and improves their business. Tell us what projects you are working on, and we'll help you come up with the perfect furniture for your client.