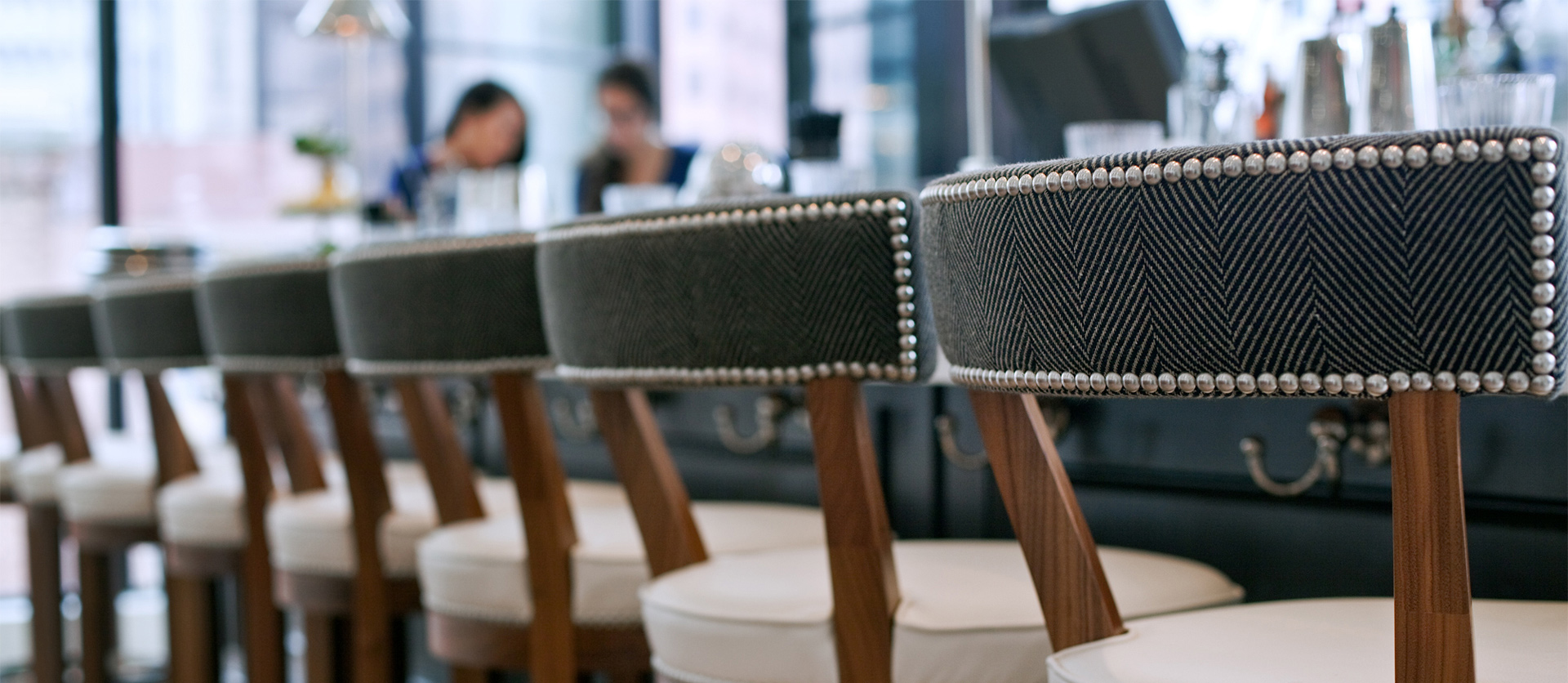 Tricks of the Trade: You Can Recognize Quality Stitching
Stitching may seem like a minor detail, but the truth is that quality stitching makes a huge difference in the results of our designer furniture from Toronto. The quality of the thread itself determines, in part, how well a piece of furniture will hold up over time. Also, the level of expertise in the craftsperson contributes to stitching that looks straight and sharp, and holds in place well. Stitching can even contribute to the aesthetic of a piece. For example, thicker thread is often used to create detailing on the fabric.
Our high-quality methods are no secret. We love sharing our techniques with our valued customers. That's why we're going to let you in on the intricacies of our stitching methods in this article. We hope you'll enjoy understanding more about the attention to detail we put into each piece from the best of Toronto's custom furniture makers.
Pop Quiz: Do You Know This Stitch?
At Louis Interiors, our skilled seamstresses use a variety of stitch types. This ensures that each piece of our custom furniture gets the proper finish for its look and purpose. Assembly line furniture can be limited to only a few types of stitches, and the quality of stitching simply doesn't stand up to the sharp eyes of our professionals.
Take a look at some of the techniques we employ for your Toronto fine furniture:
Top Stitch—A top stitch is, itself, a versatile tool in our sewing arsenal. A top stitch is often used for edges where the thread shows. Matching thread can be used for a top stitch, creating a clean, crisp edge. Or, a top stitch can be used to create a decorative seam. In that case, a colour may be used that stands out from the fabric. The major advantage of top stitching is that it makes the finished seam much sturdier, and it's less likely that the edges of the fabric will shift after use.
Glove Stitch—The glove stitch, which gets its name from the fact that it's used on baseball gloves, is made up of two stitches on either side of a seam. A straight stitch is a simple technique that doesn't involve looping the thread or crossing it over itself. By adding the glove stich, however, this becomes a pretty stitching for edges.
Plain Seam—A plain is a basic machine-sewn seam. It is typically used for simple joining of two pieces of fabric, and typically leaves a raw edge on the inside of the joining, where they won't be seen.
Piping—Piping is a decorative strip of fabric sewn into the seam of the main fabric on your fine furniture in order to cover the thread. It's a great way to embellish and customize your piece rather than leaving just thread at the seams. Piping can be large or small to create various looks, and it can be cut either from the same fabric as the body of the piece or cut from an entirely different fabric for contrast. For instance, leather piping could be added to a cotton or synthetic textile. Piping comes in two primary categories: single welt and double welt. Single welt piping is typically sewn into the trim, but double welt piping is used as a finishing trim that is stapled or glued to the piece after the rest of the sewing is finished. Single welt piping is quite popular on couch and chair cushions.
Cinch Your High End Furniture Look
We're always about options at Louis Interiors. All of our stitching can be completed in a multitude of thread colours. If you don't have a preference, we typically match the thread as closely to the fabric as possible, in order to keep it inconspicuous. However, if you like a more visible seam, we're happy to help you choose bold and contrasting thread colours to accentuate the stitch.
Giving Your Fine Furniture an Edge
What's the real mark of fine furniture? Quality. That's why our skilled seamstresses only use sewing techniques that hold together for an enduring finished piece. One such technique is surging, a stitching method performed by a special surger sewing machine. It uses multiple spools of thread at once, and even multiple sewing needles, in order to make a strong, high-quality seam that won't come undone. Finishing your furniture edges in this way reinforces the seams of cushions, cushion bands, and welts, so you have a durable piece of furniture that won't require mending.
We're always happy to tell you about our procedures. Reach out to one of our friendly team members today to learn more about our unique process that keeps you in control from start to finish. With Louis Interiors, you always get the exact piece of high end furniture that you envision.