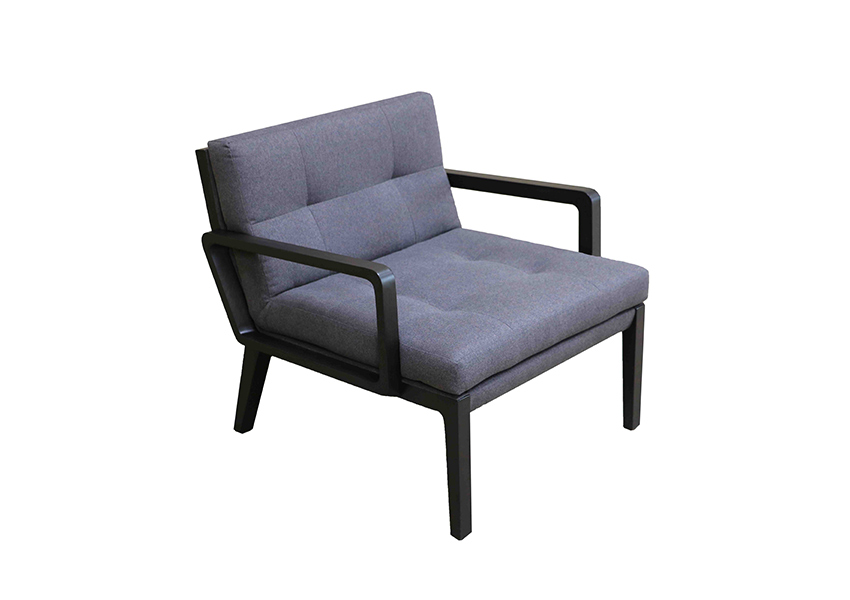 Versatility in Style: Lounge Chair 316
In another recent blog post, we introduced you to our new Dining Chair 317. We have also recently unveiled a new lounge chair design that we are very proud of. This chair has a sophisticated and classic style that will work well in hotel lobbies, restaurant waiting areas, or even as an accent piece in your home. At Louis Interiors, we don't just make luxury furniture, we also take an active role in furniture design and shaping aesthetic trends. Here's a look at the features of our Lounge Chair 316.
Style is in the details
Although Lounge Chair 316 at first looks like a simple design, its understated details are exactly what gives this chair its character. Looking at the chair, you will notice that both the seat and the chair back are made with pulled-in seam details. This gives the chair a sophisticated look similar to button tufted accents. However, unlike button tufting, a pulled-in seam creates a nice, straight line that adds to the chair's look of luxury and elegance. And you can get the upholstery in any colour or pattern you like. Louis Interiors is not only a manufacturer of luxury furniture; we craft custom furniture that suits your exact needs and style expectations.
In addition to pulled-in seams on the upholstery, this lounge chair features uniquely tapered legs and arms that make it stand out from a standard chair with straight legs. The smooth, curved chair arms provide a more natural resting place for the hands then a chair with straight, sharp edges. Just like the upholstery can be customized to suit your taste or room theme, the wooden frame can also be stained in whichever of the wood finish colours you prefer.
We don't forget about comfort
Louis Interiors Lounge Chair 316 takes sleek, minimal style and combines it with comfort for a chair that helps you and your guests relax without taking up a lot of extra space. And despite its minimalist appearance, the wide, roomy seat of this chair provides plenty of space for settling in comfortably. We also use high quality foam that keeps the seat of Lounge Chair 316 in shape without feeling stiff and overly firm. This quality in materials is especially important for chairs that will be used in hotels, restaurants, and retail establishments where many guests will be using the seating. This chair provides comfort that will not sink or wear down.
The versatility of lounge chairs
The truly wonderful thing about this particular lounge chair is that it has a classic style and comfort that really can be used in a variety of settings. For instance, it is the perfect spot for restaurant guests to wait for a table. Many restaurants forget about their waiting area when it comes to guest comfort. But if you expect your guests will need to wait for any significant amount of time, it really is a smart idea to invest in comfortable seating. Waiting for 20 minutes on a hard wooden bench is not something most restaurant guests enjoy. Instead, make even the wait an experience. That will make your establishment stand out as exceptionally focused on guest experience.
Lounge Chair 316 also works well in hotel lobbies. The lobby area always needs comfortable seating, and this chair maximizes space while giving guests a place to stop before heading up to their room, or a place to wait for friends or family before leaving your hotel. Because it is lightweight it also allows you to rearrange the lobby area as needed. You can easily create small, intimate pockets in your lobby where guests can come to chat during their stay.
Also, this chair would not be out of place in the entryway or living room of a sophisticated modern home or apartment. It's just right for providing extra seating when you are entertaining guests. And the unique design makes it a beautiful element to your home even when you are not entertaining. Custom furniture allows you to get the piece you want rather than just the closest thing you can find to your vision.
Browse Louis Interiors catalogue today for more ideas about what you envision in a piece of custom furniture for your restaurant, hotel, or home.