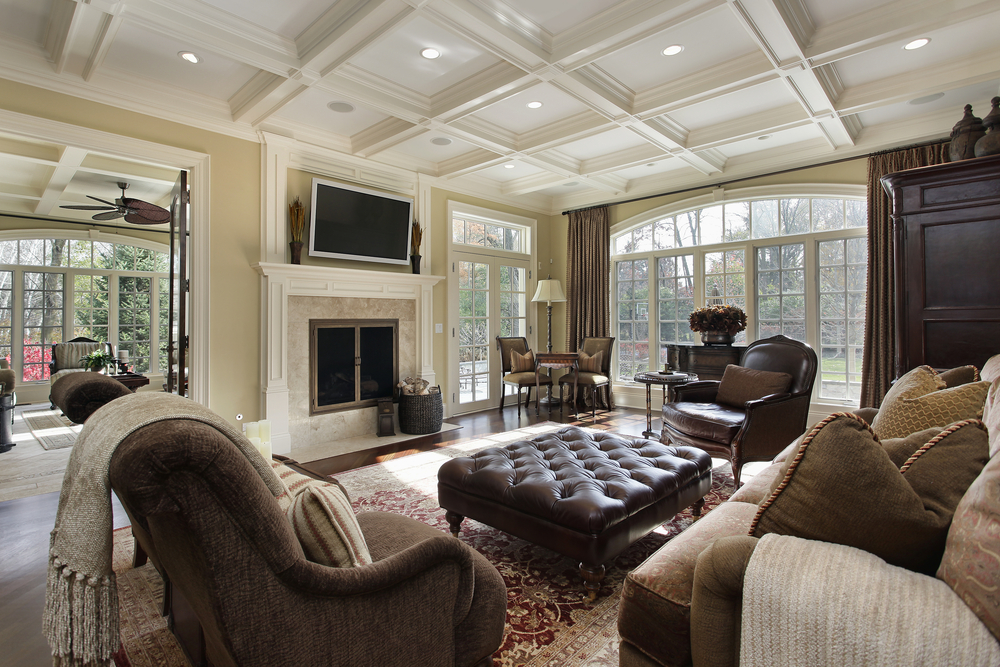 Why Couches Are Splurge Worthy
The couch is often a major focal point of living room and family room areas. They are the place where people gather to chat, watch TV, or read. They are the place where individuals stop to take a nap on the weekend. Couches are a design staple that needs to be comfortable and hardworking. And that's why it's a good move to convince your clients that a good portion of the design budget should go towards a quality couch. Need a little help convincing them? Here's our take on why couches are splurge worthy.
Custom couches made to last
There's an old saying that "only rich people can afford to buy cheap." What that means is that if you go with a cheap piece for an item that will be used frequently, you are much more likely to have to replace it sooner. The math is simple. You can replace a cheap sofa in five years or keep one that was a few thousand more for twenty years. In the long run, high quality items turn out to be the better value. And custom couches ensure that your client gets exactly what they want for an item that takes up such a big chunk of the design budget.
Worried that the client will change their mind before the piece earns its value? No problem. At Louis Interiors we not only specialize in being custom furniture makers, we also provide re-upholstery services for items your client already owns, whether they were built by us or not. As long as the frame and foam are high quality, it's no problem to change the upholstery and create a new look when your client tires of old colours or patterns.
Louis Interiors fine furniture
The truth is that custom couches made with time-tested woodworking methods actually do hold up better than modern versions that are often made with plywood that has been stapled together. Instead, we use traditional European joinery methods. And all of our fine furniture frames are made from solid hardwood. Specifically, we use kiln-dried soft maple wood (don't be fooled by its name–it is only soft in comparison to other maple wood). Proper joinery methods combined with hardwood means that your client doesn't end up with a couch with a broken leg a couple years down the road.
Letting your client go with a cheap couch can result in you getting a phone call in a year that the cute couch you helped them pick out now has a loose arm or a fraying stitch in the upholstery. Even stubborn clients can usually see the logic when you explain to them the real differences in how cheap couches are made versus custom made furniture.
In addition to the quality of how the frame holds up, fine furniture also has better quality cushions. And that is definitely a point worth bringing up to your clients. Foam cushions will typically wear down over time. Most people don't like sitting on flattened couch cushions. After all, it's the piece of furniture you go to for lounging and being comfortable.
At Louis Interiors, we use foam cushions that feel soft while retaining their shape over time. And we can even add down and feathers to the couch cushions for superior durability and comfort. Our custom furniture makers know the right ratios of down to feathers to create both luxury and endurance of the piece. You see, more down does not necessarily mean more luxury. Blending down and feathers gives you the benefits of both materials. We can make cushions for custom couches with 70/30 down to feather ratios, 50/50, or 30/70. And we blend our down and feathers on site, which means your client can specify whichever ratio they prefer, even custom blends. And don't forget the convenience of letting your client select any colour or pattern of upholstery they like for the couch construction they choose rather than choosing a couch based on the room's colour scheme and what is available pre-made.
Talk to our team of expert custom furniture makers in Toronto. We'll help you provide exceptional service to your interior design clients in residential, commercial, and hospitality projects.